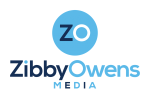 Marketing and Publicity Manager, Zcast podcast network
A full time position
Fully remote: working with a USA-based team at Zibby Owens Media.

The ZCast podcast network is a division of Zibby Owens Media, home of the award-winning show, "Moms Don't Have Time to Read Books," hosted by Zibby Owens. We seek a Marketing and Publicity Manager to join our innovative, hardworking and creative podcasting team. This innovative, tactical and social media-minded manager will report to the CEO and work closely with our ZCast podcast producer. Creative ideas are welcomed and experimentation strongly encouraged! The ideal candidate has exceptionally strong organizational skills for managing campaigns, setting budgets, conducting publicity outreach, and launching new shows. They will also be the primary liaison with the podcast hosts.
Responsibilities: Full responsibility for social media and publicity strategy and execution, as well as advertising scheduling and budgeting for the ZCast network, alongside CEO. Develop creative marketing campaigns to spread the word about new podcast launches and to increase the audience of existing podcasts. Leverage intershow learning and build our podcaster network. Assist in vetting new show ideas. Assemble and deliver reporting and analysis of marketing efforts in meaningful and measurable ways. Prepare for weekly meetings with the CEO. Attend industry conferences and events.
Qualifications: The ideal candidate is a collaborative self-starter with a minimum of 5-7 years of marketing and/or publicity experience. A love of podcasts and books is essential! Go to zcastnetwork.com to learn more.
To apply
To apply: Please send your resume and a cover letter (including what podcasts you're listening to) to humanresources@zibbybooks.com
Please mention podjobs.net in your application.