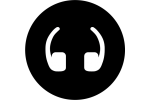 Podcast Editor / Sound Designer
A project or contract Audio Editor position
Fully remote: working with a UK-based team at What's the Story? Sounds.

Salary range: £3,200 to £4,400 (monthly rate) - subject to experience
What's the Story? Sounds (www.whatsthestorysounds.com) is expanding, and we're looking for an experienced Audio Editor / Sound Designer to join our creative team.
We are looking for a Podcast Editor based in the UK, with a proven track record of working on factual storytelling, both on long-form narrative series and weekly-released content.
The successful candidate will be responsible for editing and creating sound design across a number of productions - weekly released series in the true crime and factual entertainment space.
This involves a detailed understanding of the post-production process - and the right candidate will excell creatively, be confident working to deadlines, an excellent communicator and have the abilty to move seamlessly between projects. This is a remote working role.
Responsibilities:
Podcast editing • Sound Design • File Delivery •
Who you are:
3 years' experience as an audio editor • Experience as an editor on long form narrative podcasts and weekly content • Accomplished with sound design • A strong understanding of the podcasting landscape • Exceptionally organised with a high level of attention to detail • A skilled multitasker able to juggle priorities • Self-starter and problem solver
Who we are: What's the Story? Sounds are one of the UK's fastest growing podcast producers. Based in Leeds, we're an ambitious company, whose titles include 'The Missing' (Amazon Music), 'Smoking Gun, 'Swindler Saviour Mobster Spy', 'Emily Atack: Lie Detector' (Spotify) and 'The Footballer's Football Podcast' (BBC Sounds). We're passionate about story-telling, crafting complex narratives and delivering high production values. We work with a number of platforms in the UK and the US, and have multiple projects in production.
To apply
Send us an email with your CV to info@whatsthestorysounds.com
Please mention podjobs.net in your application.
More details
What does a Audio Editor role normally entail?

The Podcast Taxonomy definition for a role like this in Audio Post-Production says: "The Audio Editor cuts and rearranges audio for clarity and storytelling purposes. The Audio Editor may also perform general audio processing and mastering."
This exact role may have different requirements.