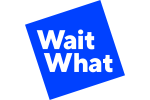 Audience Development Manager
A full time position
Fully remote: working with a USA-based team at WaitWhat.
Posted: December 10, 2020
About WaitWhat
WaitWhat is a media invention company, recognized for the highest quality, most genre-defining content today. Founded by June Cohen and Deron Triff — the executives who built and led TED's media organization from its beginnings through its establishment as a global phenomenon — WaitWhat is building the most valuable, independent portfolio of premium IP, designed around essential human needs — with a contrarian strategy to scale. In everything the company creates, it aims to elicit the contagious emotions of wonder, curiosity, and mastery — infusing our content with "Wait, what?" moments that spark curiosity and change our understanding of the world.
Our properties — each one profitable, each earning Webby Award honors and together downloaded more than 50 million times — include the now-iconic Masters of Scale (hosted by LinkedIn co-founder and Greylock partner Reid Hoffman), the genre-defining hit Meditative Story (in partnership with Arianna Huffington's Thrive), and the provocative and timely Should This Exist? (hosted by Silicon Valley pioneer Caterina Fake). In January, we introduce Spark & Fire, a completely original series that takes audiences into the minds of famous creators who describe — in an exquisitely crafted first-person story set to music — the journey to bring their iconic works to life. WaitWhat's unmatched guest list of iconic thinkers and doers range from Sir Richard Branson to novelist Isabel Allende; Shark Tank's Mark Cuban to Trinity Church's Pastor Otis Moss; Cellist Yo-Yo Ma to Nobel laureate Daniel Kahneman to baseball Hall of Famer Cal Ripken Jr.
WaitWhat closed its Series A in April 2019, with a remarkable, gender-balanced group of investors led by Cue Ball Capital and Burda Principal Investments. The company has forged successful collaborations with Harvard Business School, Thrive Global, Omidyar Network, the Summit Series, Entrepreneur Magazine, among others, who are working alongside WaitWhat to scale its properties into apps, courses, live events, books, and video. WaitWhat's sponsors include blue-chip clients like AT&T, AWS, Accenture, Capital One, Deloitte and Mastercard and digital powerhouses like HubSpot, Skillshare, Zoom, and others — who turn to WaitWhat for unmatched storytelling and exceptional results.
Based in New York City, with a number of remote contributors, WaitWhat has built an exceptionally talented team of "media inventors" who are committed to the founders' vision for first-of-their-kind media platforms that endure and scale. The company's vibrant culture is rooted in optimism, possibility thinking, and an uncommon willingness to embrace risk with intention to push the outer bounds of creativity and experimentation. The team — purposefully rich in diversity — treats each other with kindness and respect, tolerant of differences and always supporting "yes, and"-style conversations (consistent with best practices of design thinking and improv).
Requirements This is a supporting role that will execute against a strategic vision set by the founder and the Head of Audience Development.
You are a strong executor with a knack for getting things done. Thorough and attentive to detail.
You have the mind and the ambition to meet high-reaching audience growth goals for our media properties, both in their first format (podcasting) and in their extension.
We want to deepen your skills and stretch your talents in new ways; give you ownership and responsibility for projects; inspire and delight your ability to impact the world through the media we create; and welcome you into a very special humble, high-collaborative startup environment that is intense and kind in equal parts.
While WaitWhat is not a podcast company, podcast love is a must and experience - a plus.
Responsibilities
Implement multiple tactics to drive organic audience growth of WaitWhat media properties across all platforms - ranging from the very basic to the very unexpected - under the direction of the Head of Audience Development.
Nurture existing relationships with second tier podcasting platforms with the goal of maximizing discovery of WaitWhat properties in those platforms.
Conduct thorough research around content themes, guests and storytellers that will inform creative episodic audience development strategies.
Ideate and execute episodic audience development tactics supporting guests, storytellers and partners to the highest of standards.
Draft copy for marketing materials, understanding the intent of the language/asset and the voice of each property.
Draft copy for first time outreach with potential marketing partners, using the distinct language and style that WaitWhat uses to communicate externally.
Work collaboratively with other departments - production, design and editorially to deliver the highest standard of work on all projects,
Produce weekly and monthly reports for audience development tactics highlighting wins, losses, opportunities for optimization and scale.
Stay on top of podcasting and media marketing trends and understand where and how WaitWhat might find opportunities that align with our goals.
Qualifications
2-3 years of experience with a proven track record in audience development for high-quality media brands.
A strong executor with a knack for getting things done. Thorough and attentive to detail, always.
A willingness to learn - to deepen your skills and stretch your talents in new ways under the direction of the Head of Audience Development.
Highly organized and can multitask to manage projects, relationships and outreaches with tight deadlines.
Understanding of the media landscape including audio, visual, books and events.
A passion for really good content and storytelling.
Critical thinking and problem solving skills.
Superior verbal communication skills, diplomacy and positivity. You inspire belief, sophistication and infinite kindness with the right balance of resolve.
Benefits This is a FT position, currently remote, with the intention to be New York City– and office-based when it's safe. We offer a benefits package that's generous and competitive with larger companies. We work startup hours, but we also rest; our whole company closes for 2 weeks in the summer and the week between Christmas and the New Year. We're an anti-racist organization, committed to equity and diversity of all kinds — on our team, among our investors, and as represented on our media properties. Most important, we only hire extremely kind people. Benefits include 3 weeks of company holiday (2 weeks in summer + one week between Christmas and New Years), 5 personal days, healthcare — PPO, vision and dental, short and long term disability, life insurance, 401K).
To apply
Apply at https://apply.workable.com/wait-what/j/E05E8F5A1C/ or email your resume and a cover letter to anna@waitwhat.com
Please mention podjobs.net in your application.