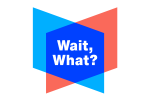 Producer - Meditative Story
A full time position
Fully remote: working with a USA-based team at Wait What Inc..
Posted: Jul 10, 2020
About WaitWhat
WaitWhat is a media invention company that creates and owns premium content — widely recognized among the highest quality, most original, and genre-defining works today. Founded by June Cohen and Deron Triff — the former TED execs who launched TED Talks and led the media organization for a combined 17 years — WaitWhat's approach to content is unique in the industry. In everything the company creates, it aims to elicit the contagious emotions of wonder, curiosity, and mastery — infusing their content with "Wait, what?' moments that spark curiosity and change our understanding of the world.
WaitWhat's properties — each of which is profitable, and collectively have been downloaded more than 30 million times — include the Webby Award-winning Masters of Scale (hosted by LinkedIn co-founder and Greylock partner Reid Hoffman), the genre-defining hit Meditative Story (in partnership with Arianna Huffington's Thrive), and the provocative and timely Should This Exist (hosted by Silicon Valley Internet pioneer Caterina Fake).
Most media companies replicate proven models. They compete for the same audience and market share — with almost identical products — and this is ultimately a zero-sum game. By contrast, WaitWhat creates new categories with their content, and at production values that have become the reference point for quality. All of this positions them to escape the competition, garner attention, win awards, and command premium revenue streams.
Rather than defining a media property by its format (i.e., "a video series," "a podcast," "a live event"), WaitWhat creates media properties that can scale "horizontally" beyond their first format. For example, a property may start as a podcast that evolves into a conference, a book series, a suite of learning products (corporate and university), a destination website, an app, a marketplace that helps community members find products and each other, a Netflix or Amazon video series, etc. — all with the intention of building an ecosystem around the core body of content. The WaitWhat team designs its media properties with the explicit purpose of shaping them this way into infinite form factors — and they only take on ideas that have the potential for great scale.
We pride ourselves on building partnerships that make allies out of competitors. The company has forged successful collaborations with Harvard Business School, Harvard Business Publishing, Thrive Global, Creative Artists Agency, Omidyar Network, the Summit Series, Entrepreneur Magazine, Quartz, Mashable, KQED, among others who are working alongside WaitWhat to scale its properties into education, live events, publishing, and video. WaitWhat's sponsors include blue chip clients, like AT&T, AWS, Accenture, Capital One and Mastercard — who turn to WaitWhat for the unmatched storytelling and exceptional results.
Based in New York City, we are a very joyful, kind-hearted, soulful team. Our vibrant culture is rooted in optimism, possibility thinking, and an uncommon willingness to embrace risk with intention to push the outer bounds of creativity and experimentation. The team — purposefully rich in diversity — treats each other with generosity and respect, tolerant of differences and always supporting 'yes, and' style conversations (consistent with best practices of design thinking and improv).
In 2020 WaitWhat will add 2 new properties, introduce innovative extensions of their core properties, and expand partnerships — all of which build on the organization's leadership as one of the most inventive, high quality media companies around.
THE ROLE
We're looking to hire a Producer for Meditative Story. Meditative Story is a first-of-its-kind podcast listening experience that combines the emotional pull of immersive storytelling with the immediate, science-backed benefits of mindfulness practice. The entire experience is elevated by gorgeous, originally composed music that rides ethereally above the story.
This Producer role provides for a rich opportunity for an experienced candidate with a strong background in audio. The role is for a candidate excited to roll their sleeves up and work across audio editing and production management on a genre-defining media property.
Responsibilities include:
Lead the audio assembly, editing and revision process for highly produced podcasts, ads and special projects at WaitWhat Book, prep for and record interviews with show guests Oversee the transcription process to support show production Collaborate with show executive producers, producers, writers and partners to gather and incorporate notes. Contribute editorial recommendations to help fine tune show segments Participate in creative ideation, brainstorming to support initiatives across WaitWhat Manage production timeline and prioritize activities to complete multiple shows at once. Be service oriented with internal and external partners Bring a possibility thinking mindset to all aspects of your job. This includes: 'No job too big or too small', 'all hands on deck' and 'we can find a way' mentality
Requirements
5+ years' creative experience in audio engineering with experience in podcasting Deep knowledge of editing in Pro-Tools Proactive problem solving skills and experience as a self starter in taking on projects A ferocious appetite to research and figure out tasks you may not be familiar with Experience organizing media assets, directory structures and awareness of post-production workflows Time management skills to coordinate multiple producer's projects Effective communication with in-house and outside client partners
Please mention podjobs.net in your application.