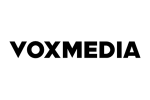 Supervising Producer, Criminal Productions
A full time position
Fully remote: working with a USA-based team at Vox Media.

As the leading independent modern media company, Vox Media ignites conversations and influences culture. Across digital, podcasts, TV, streaming, live events, and print, we tell stories that affect our audience's daily lives and entertain as much as they inform.
Our portfolio features influential and respected editorial properties including Vox, New York Magazine, The Verge, The Cut, Eater, Vulture, The Strategist, Polygon, SB Nation, Intelligencer, Curbed, Grub Street, and Recode. Off-platform, the Vox Media Podcast Network offers one of the largest collections of popular podcasts, and Vox Media Studios produces and distributes the award-winning nonfiction shows. Powered by innovative technology that scales quality, the Chorus publishing platform and Concert advertising marketplace answer the always-changing needs of modern audiences, creators and marketers.
Vox Media has been named one of Fast Company's "Most Innovative Companies in Media," an Inc. "Company of the Year," Digiday's "Best Company for Parents," and one of the Best Places to Work for LGBTQ Equality by the Human Rights Campaign.
Criminal is hiring a Supervising Producer.As our team grows, we're looking for someone who understands the craft and process of reporting and audio production who can help us facilitate every aspect of show production. This position is a hybrid operations and editorial role. We're looking for someone who can confidently create and oversee an editorial calendar, and coordinate with producers and other collaborators to bring complex projects to completion on deadline.
What you'll do:
Create and oversee production calendars Work closely with producers to make sure everyone has the resources they need to meet deadlines Run pitch meetings and be a sounding board for producers/host to develop ideas and solve problems Lead and guide producers through the drafting, revision, and fact-checking process Help identify exciting contributors and vet pitches Coordinate with technical director, as well as engineers, studios, and producers to ensure that each episode meets expectations of audio quality Create workflow and process documents, oversee workflow and team management Coordinate training and identify areas where we can all improve What you'll bring:
Enthusiasm for working with editorial teams of varied skill sets and diverse experience in audio Confidence overseeing all facets of production of a weekly show Strong collaborative skills, as well as the ability to delegate and prioritize effectively A portfolio that demonstrates an ear for great tape and inventive approaches to audio storytelling Experience vetting pitches, and shaping them in service of a show's stylistic and editorial parameters Proficiency in audio mixing, experience booking, prep, and conducting pre-interviews Dedication to great work, made collaboratively with great people Where you'll be: We are based in Durham, North Carolina, but you can live and work wherever is best for you.
To apply, please submit a résumé, cover letter, and links to 3-5 stories you've worked on, or helped produce in some way. In your cover letter, please be sure to address the following questions: What appeals to you about working with us? Which Criminal or This is Love episodes stand out to you? What's your approach to managing a team?
About working at Vox Media:
This is a permanent, full-time position with excellent benefits—including flexible hours and generous parental leave. Vox Media strives to provide comprehensive healthcare options for our employees and to ensure that our healthcare and other benefits are LGBTQ-inclusive. You'll be joining a group of focused, hard-working, creative people who are passionate about doing work that's challenging and fun—and who strive to maintain a healthy work/life balance.
Vox Media is committed to building an inclusive environment for people of all backgrounds and everyone is encouraged to apply. Vox Media is an Equal Opportunity Employer and does not discriminate on the basis of race, color, gender, sexual orientation, gender identity or expression, religion, disability, national origin, protected veteran status, age, or any other status protected by applicable national, federal, state, or local law.
Vox Media is dedicated to the health and wellbeing of all of our employees. All employees in our offices are required to be fully vaccinated against COVID-19, unless they have an approved religious or medical exemption. Employees with approved religious or medical exemptions may be subject to additional safety requirements, including submitting to regular COVID-19 testing and wearing a face covering in our offices.
Please note that our recruiting team will only contact you from @voxmedia.com email addresses, and we will never contact you via text message.
Please mention podjobs.net in your application.