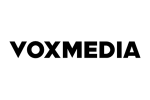 Producer, Today Explained
A full time position
Fully remote: working with a USA-based team at Vox Media.

As the leading independent modern media company, Vox Media ignites conversations and influences culture. Across digital, podcasts, TV, streaming, live events, and print, we tell stories that affect our audience's daily lives and entertain as much as they inform.
Our portfolio features influential and respected editorial properties including Vox, New York Magazine, The Verge, The Cut, Eater, Vulture, The Strategist, Polygon, SB Nation, Intelligencer, Curbed, Grub Street, and Recode. Off-platform, the Vox Media Podcast Network offers one of the largest collections of popular podcasts, and Vox Media Studios produces and distributes the award-winning nonfiction shows. Powered by innovative technology that scales quality, the Chorus publishing platform and Concert advertising marketplace answer the always-changing needs of modern audiences, creators and marketers.
Vox Media has been named one of Fast Company's "Most Innovative Companies in Media," an Inc. "Company of the Year," Digiday's "Best Company for Parents," and one of the Best Places to Work for LGBTQ Equality by the Human Rights Campaign.
Vox is a user's guide to the news produced by the reporters and subject issue experts who know it best and Today, Explained – our flagship podcast – is an audio expression of that mission: a daily news explainer that is both relentlessly reported and ground-breaking in its sonics and storytelling. And now we're looking for a versatile audio producer who can craft compelling stories and segments to join the team of our ambitious and innovative daily news explainer.
What you'll do:
You'll play multiple roles, working closely with the team to conceptualize each day's programming, coming up with smart pitches, booking and interviewing guests, constructing the segments, editing and scoring episodes, and possibly reporting segments yourself. The right person for this position is delighted by the idea of innovating on foundational news formats like the standard two-way, and has demonstrated a knack for taking unexpected approaches to curiosity-driven stories.
Ideally, the producer will be a voracious learner who finds themselves obsessed with domestic and global news, and enjoys digging into everything from the inner workings of the Biden White House to the latest developments in lab-grown meats to the debates over environmental policy, housing equality and diversity in film. You'll also be comfortable working at a fast clip to get the show posted in time for both podcast and terrestrial radio distribution timetables.
Responsibilities:
Research and propose timely and distinctive story segments, write program copy
Explain the news of the day clearly and respectfully — never underestimating the audience's intelligence or overestimating their information
Produce segments and episodes as needed
Assemble research prep and write program copy
Locate and book diverse sources and interviewees
Occasional original reporting, scoring and script editing
What you'll bring:
Experience creating audio stories as part of a fast-moving, collaborative team under deadline pressure
A portfolio that demonstrates an ear for great tape and inventive approaches to audio storytelling
A highly organized and dogged approach to landing bookings on a fast turnaround
Experience scripting and editing compelling, curiosity-driven stories or segments
A track record of developing stories that draw on diverse perspectives/source lists
A passion for explanatory journalism
Creativity and a desire to push the boundaries and be innovative
Proficiency in audio mixing in ProTools or other audio editing software is a plus.
Vox values thinkers, creatives, and obsessives from all backgrounds. We are looking to hire the right person — not the right résumé. We encourage those with diverse and nontraditional experience to apply.
About working at Vox Media:
This is a permanent, full-time position with excellent benefits—including flexible hours and generous parental leave. Vox Media strives to provide comprehensive healthcare options for our employees and to ensure that our healthcare and other benefits are LGBTQ-inclusive. You'll be joining a group of focused, hard-working, creative people who are passionate about doing work that's challenging and fun—and who strive to maintain a healthy work/life balance.
Vox Media is committed to building an inclusive environment for people of all backgrounds and everyone is encouraged to apply. Vox Media is an Equal Opportunity Employer and does not discriminate on the basis of race, color, gender, sexual orientation, gender identity or expression, religion, disability, national origin, protected veteran status, age, or any other status protected by applicable national, federal, state, or local law.
Vox Media is dedicated to the health and wellbeing of all of our employees. All employees in our offices are required to be fully vaccinated against COVID-19, unless they have an approved religious or medical exemption. Employees with approved religious or medical exemptions may be subject to additional safety requirements, including submitting to regular COVID-19 testing and wearing a face covering in our offices.
Please note that our recruiting team will only contact you from @voxmedia.com email addresses, and we will never contact you via text message.
Please mention podjobs.net in your application.