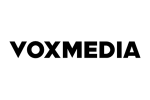 Producer II
A full time position
Fully remote: working with a USA-based team at Vox Media.

As the leading independent modern media company, Vox Media ignites conversations and influences culture. Across digital, podcasts, TV, streaming, live events, and print, we tell stories that affect our audience's daily lives and entertain as much as they inform.
Our portfolio features influential and respected editorial properties including Vox, New York Magazine, The Verge, The Cut, Eater, Vulture, The Strategist, Polygon, SB Nation, Intelligencer, Curbed, Grub Street, and Recode. Off-platform, the Vox Media Podcast Network offers one of the largest collections of popular podcasts, and Vox Media Studios produces and distributes the award-winning nonfiction shows. Powered by innovative technology that scales quality, the Chorus publishing platform and Concert advertising marketplace answer the always-changing needs of modern audiences, creators and marketers.
Vox Media has been named one of Fast Company's "Most Innovative Companies in Media," an Inc. "Company of the Year," Digiday's "Best Company for Parents," and one of the Best Places to Work for LGBTQ Equality by the Human Rights Campaign.
Producers plan and execute all phases of reporting and production for episodes of Criminal, This is Love, and future projects. Producers work closely with colleagues in a collaborative environment, sometimes taking the lead on writing a story and other times supporting colleagues with booking, research, tape-gathering, tape-editing, fact-checking, mixing, and more. If you're right for this role, you're a hands-on, deadline-driven, self-directed producer who's comfortable working independently to deliver high-quality produced pieces—but thrives in a team setting where many different voices are welcomed into the process of shaping the work.
What you'll do:
The ideal candidate already knows how to write and mix an audio story, but we're open to creative applicants without radio experience. We're looking for someone with a demonstrated ability to identify and structure a surprising story.
Because we're such a small team, applicants must excel at collaborating, and be ready to help with all aspects of thriving podcasts, beyond direct production. You will: pitch compelling stories and construct innovative ways to tell them, locate people who are hard to find, cold-call strangers, regularly conduct research, develop host questions, write scripts for the ear. Edit audio using Pro Tools, or be ready to learn how. Help us solve problems. Participate in long edits with the host and other producers.
Ideally you're drawn to unusual details, with a hearty appetite for research (looking for a gem in a newspaper archive, getting curious about exceptions, and overlooked people, ideas, and institutions). You think it feels good to write and revise collaboratively. When you don't know something, you're comfortable admitting it. When you need help, you're comfortable asking for it. You fact check yourself (even when you feel sure). When you approach stories and subjects, you're a good listener. You're open-minded, and interested in nuance and ambiguity.
Where you'll be: We are based in Durham, North Carolina, but you can live and work wherever is best for you.
To apply, please submit a résumé, cover letter, and links to 3-5 stories you've written and produced. In your cover letter, please be sure to address the following questions: What appeals to you about working with us? Which Criminal or This is Love episodes stand out to you? What's your approach to finding, researching, and writing stories? Feel free to go longer than you usually do in a cover letter — we'd love to get a sense of how you think, write, and edit.
About working at Vox Media:
This is a permanent, full-time position with excellent benefits—including flexible hours and generous parental leave. Vox Media strives to provide comprehensive healthcare options for our employees and to ensure that our healthcare and other benefits are LGBTQ-inclusive. You'll be joining a group of focused, hard-working, creative people who are passionate about doing work that's challenging and fun—and who strive to maintain a healthy work/life balance.
Vox Media is committed to building an inclusive environment for people of all backgrounds and everyone is encouraged to apply. Vox Media is an Equal Opportunity Employer and does not discriminate on the basis of race, color, gender, sexual orientation, gender identity or expression, religion, disability, national origin, protected veteran status, age, or any other status protected by applicable national, federal, state, or local law.
Vox Media is dedicated to the health and wellbeing of all of our employees. All employees in our offices are required to be fully vaccinated against COVID-19, unless they have an approved religious or medical exemption. Employees with approved religious or medical exemptions may be subject to additional safety requirements, including submitting to regular COVID-19 testing and wearing a face covering in our offices.
Please note that our recruiting team will only contact you from @voxmedia.com email addresses, and we will never contact you via text message.
Please mention podjobs.net in your application.