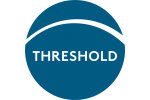 Producer/host
A project or contract Producer position
Fully remote: working with a USA-based team at Threshold.

Salary: $5,000 (monthly rate) plus health insurance, tech stipend, unlimited PTO
Peabody Award-winning podcast Threshold seeks a producer to report, produce, and host a 4 - 7 episode season of the show.
This is a full-time, limited-term role that we anticipate taking 18-24 months to complete. Start date is flexible, though we hope to get someone started by spring 2023. Compensation is $5000 / month with benefits, including a technology stipend, healthcare stipend, and unlimited PTO. This position is fully remote and offers a flexible schedule.
We encourage storytellers from all backgrounds, and are committed to having a team that is made up of diverse skills, experiences, and abilities. We are committed to equity and diversity within our team and in our work.
Working with Threshold Each season of Threshold is a multipart narrative audio documentary. Our stories have a single narrator and feature many voices.
What are we looking for in a storyteller? We're looking for an enthusiastic, creative, curious, and emotionally intelligent storyteller. You are an ideas person—you get captivated by a question, problem, or situation and simply must learn all there is to know about it. But you also know how to get things done—how to channel that passion into a finished product. Listening is at your core. You love the challenge of attuning yourself to another person and taking in their thoughts and experiences, even (especially?) someone you don't necessarily expect to like or agree with. You know the best stories are the ones that changed you in the telling.
Although our format is audio, your ability to write is more important than anything else. Show us that you can generate artful, compelling narrative about substantive ideas, and we will be interested in learning more about you. If you have already written or produced stories about environmental issues, that's a plus. If you have experience in audio, especially longform audio, better still. But if you can generate interesting ideas, research and report them with humility and integrity, and complete a quality manuscript—audio, film, print, or any other format—then we would love to hear from you.
We don't expect you to have all the answers or know how to do everything. But we do expect you to be interested in learning and growing, and to stay committed to working closely with us to see the season through from ideation to release.
We are especially looking for storytellers who feel like they don't see or hear enough environmental stories created by people they identify with.
What is it like to work with us on a series? We strive for collaboration and creative freedom in making our stories. What does that mean for you? It means that you have a lot of leeway to follow your interests and ideas in shaping the stories you tell. Our goal is to support you in realizing your vision. Along the way, you'll check in with the production team to talk over story direction and ideas as well as for feedback and edits.
How long does it take? Making a season of Threshold takes a long time. Plan for 18-24 months from ideation to release, depending on the number of episodes in the season. We believe that great storytelling takes time.
What will you be doing for those months? Every project is different, but there are a few things we can guarantee. Each episode goes through multiple rounds of drafts. This means rewriting, revoicing, and remixing many times. Your story may go through 10-15 drafts or more as the season takes shape. You'll receive feedback on drafts from the production team as well as the whole Threshold team as the episode and season develops.
You'll work closely with the managing editor throughout the making of the season with regular check-ins, brainstorms, and edits with the entire production team.
Rough Breakdown of Work
Ideation of season. Reading, researching, talking, planning with the production team. (1-2 months)
Reporting, storyboarding, thinking, planning with the production team. (2-8 months)
Drafting, writing, editing, and mixing (8-10 months)
Compensation $5,000/month with benefits Benefits include a technology stipend, healthcare stipend, and unlimited PTO. This position is fully remote and offers a flexible schedule.
To apply
Send your pitch to caysi@thresholdpodcast.org with PITCH in the subject line. Tell us what question or problem or situation you'd love to investigate that you think would be a great fit for Threshold. Tell us what compels you about it and how you'd plan to tackle your reporting, including some ideas of who you'd want to talk to.
Please mention podjobs.net in your application.
More details
What does a Producer role normally entail?

The Podcast Taxonomy definition for a role like this in Creative Direction says: "The Producer coordinates and executes the production of the podcast. Thier duties can include helping craft the creative direction of a project, budgeting, research, scheduling, and overseeing editing and final production."
This exact role may have different requirements.