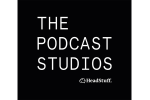 Podcast Producer & Editor
A full time position at The Podcast Studios , Dublin 2 Dublin, Ireland
Full Job Description
The Podcast Studios is a full-service podcast production company located in Dublin City Centre. We make audio and video podcasts for brands, organisations, and individuals, as well as running training courses and consultations. As HeadStuff we run the award-winning arts and culture website, HeadStuff.org, and the HeadStuff Podcast Network, an independent collective of top Irish podcasts.
We are a close-knit team of 10, working on all aspects of podcasting: audio and video production, editing, digital, sales and marketing. We are currently looking for a podcast (audio) editor to work as part of our production team. You'll be part of the full process, from helping clients to set up and design their shows, to working with hosts and guests as a producer in the booth, to editing the final show. It's a multifaceted role that will suit someone who loves to jump in, work as part of a team, and be a part of creating something new. We work with a huge range of brands and individuals; there aren't many workplaces where you might meet a world famous actor, a TD, a scientist, and a renowned author...in a single day! Alongside podcasts we also work on VO, audiobooks, webinars, remote and on-location recordings so there are opportunities to work on a variety of creative and challenging areas.
This is initially a fixed-term contract to cover maternity leave (6-9 months), however we would hope to make the role permanent.
Essential Requirements
Editing experience - you will need at least 2 years' experience editing audio and working with a DAW. We use Cubase, but if you've worked with Audition, ProTools, Reaper, etc you'll be fine. We'll get you up to speed! Production experience - you don't necessarily need to have worked in a studio before, but familiarity with recording techniques is a must. We record in studio, online, and on location so a basic understanding of mics, mixing desks, portable recorders, etc is essential. Again, we'll provide training to fill in any gaps! Podcast fan - we listen to a lot of podcasts here! We're looking for someone who is passionate about the podcast world, who listens widely, knows what they like and don't, and is always keeping an ear out for new shows and ideas, and new ways to creatively tell stories. Attention to detail - we need someone who can work carefully to client specs, editing meticulously to ensure the highest quality final mixdown. People person - we work with a huge number of clients, many of whom have not recorded in a studio before, and so the ideal candidate will be friendly, outgoing, and able to put people at ease. Confidence - we need a producer who's not afraid to jump in during a recording and keep everyone on track, on time, and on mic. Multi-tasker - the ideal candidate will be comfortable working on multiple tasks and calm under pressure. On any given day you might be emailing clients, running to a nearby office for a location recording, helping to set up a studio recording, editing a show, and liaising with a colleague on artwork or marketing for a podcast launch. This is a busy studio!
Non-Essential Requirements
We record video with lots of our podcasts so an understanding of video setups, lighting, video editing, etc is a definite plus but by no means essential.We do lots of training, workshops, and consultation. Any experience teaching, presenting, or speaking in front of large groups would be a plus. Any experience in voiceover direction or acting would be great, but not essential. Key Responsibilities include:
Editing client shows to specs Production work - mostly in studio, but also remotely and on-location Assisting the production team with studio setup (audio and video) Liaising with the wider team on production, editing, show launches, and more. Any other reasonable duties as required by the CEO. Essential Experience
Relevant 3rd level degree or similar 2+ years' experience in audio editing (any DAW) Production experience (studio, radio, independent podcasting, freelance production work) PC literacy (Competent in MS Office/Google Docs) A motivated self-starter approach to your work. What We Offer
Learning environment – we are a small, supportive, tight-knit team. We will give you responsibility, and everything you need to be at your very best. Development & progression – we will work with you to set goals which will provide a roadmap for your development and progression within the company. We run regular training and CPD sessions so everyone is always developing in their career. Input – as a small team your input will be sought and valued. We are a growing business and you will contribute to the future direction of the company and will feel a sense of ownership. Growing market – podcasts and video are growing quickly. It is a very exciting area. You will develop contacts, knowledge and expertise in a market that is fresh, dynamic and thriving. Flexible, non-corporate environment Our Full Time, Permanent Employee Package
We offer 20 holiday days initially (increasing over time), and an additional day off for your birthday. We offer a hybrid working environment with an office in The Podcast Studios just off Pearse Street. As a producer/editor, you will be mostly working from the studios, but with at least one work from home day if you prefer. You will be entitled to participate in our continuous professional development fund. The salary range starts at €28,000 per annum and, if you are made permanent, will grow significantly over time, based on performance. We offer health insurance to our staff. We have a pension policy in place. Cycle to Work scheme. Staff activities every month. Wellness program. Sick pay. This position is open now. It is a full time, fixed-term role. If this is of interest, please detail in a cover letter why you feel you should be considered.
Job Types: Full-time, Fixed term Contract length: 6 months
Salary: From €28,000.00 per year
Benefits:
Bike to work scheme Company events Company pension Employee discount Private medical insurance Sick pay Store discount Wellness program Work from home Schedule:
Monday to Friday Ability to commute/relocate:
Southside, Dublin, CO. Dublin: reliably commute or plan to relocate before starting work (required) Education:
Bachelor's (preferred) Experience:
audio editing: 2 years (preferred) Work Location: Hybrid remote in Southside, Dublin, Ireland.
Please mention podjobs.net in your application.