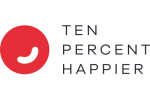 Producer, Ten Percent Happier Podcast
A full time position
Fully remote: working with a USA-based team at Ten Percent Happier.
Posted: Jul 27, 2020
About Us
Our mission is to help people become happier, healthier, and more resilient in the face of life's challenges. The science suggests these are skills -- ones that meditation makes us better at.
At its core, meditation is a simple, secular, scientifically validated exercise for your mind. Like running in the 70's, or yoga in the 90's, meditation is now poised to become the next big public health revolution. Join the team that's accelerating this revolution. Ten Percent Happier touches millions of lives with award winning apps, books and a podcast, is backed by extraordinary investors, co-founded by #1 New York Times Bestselling author Dan Harris of ABC News, and guided by the world's most respected meditation teachers & scientists.
The Role
Mission: Manage the daily production needs -- from scripting to editing to booking -- of the ongoing podcast Ten Percent Happier with Dan Harris. Serve as a key partner and thought leader on the podcast team, working closely with the Senior Producer.
Ensure the creative and operational excellence of the show, and help chart its growth and evolution as the world's leading show focused on training the mind for a more fulfilling life.
Responsibilities
Manage the booking and scheduling of guests and production needs (studio, edits, scoring etc.)
Participate in the selection of guests and topics, show research, host prep and scripting.
Lead the production on episodes when needed, ensuring they meet or exceed the show's standard of quality.
Collaborate on writing show intros and outros, episode descriptions, show notes, and proofreading show meta data before publishing.
Help shape episode concepts and provide ongoing editorial input.
Upload episodes to podcast platforms with appropriate tags.
Help develop the production process and systems for quality and efficiency.
Support the creation of digital assets for the website, marketing and promotion, social media and future episodes.
Serve as a primary point of contact for the show with the other parts of the company, providing seamless and responsive communication.
Experience
3-5 years experience as a podcast or radio producer, preferably including an in-depth interview show.
3-5 years experience in audio production and editing experience, preferably in podcasting.
Ability to set / meet deadlines and work collaboratively
Strong audio writing skills with the ability construct stories, inject humor and translate complex topics into compelling prose.
Proven editorial judgment and an ear for good sound
Strong organization and communication skills
Significant experience with mindfulness and wisdom practices, such as meditation.
Organizational Structure
This role will report directly to Samuel Johns (Senior Producer) and will work closely with Jen Poyant, (Executive Producer), and the show's production coordinator. This person will also coordinate with marketing, in-app content, and other departments at the company.
Join Us
Be a key member of a small team in a very collaborative environment.
Become a part of a rapidly growing company that is changing millions of lives.
Get a competitive compensation package with equity and benefits.
Join a culture that values clear and kind communication, a dedication to crafting incredible products and content, and will engage your intellect and curiosity on a daily basis. We're passionate about reasonable work hours, flexibility in getting work done, and respecting and valuing the whole life you live.
Ten Percent Happier seeks to help people become happier, more connected, and more resilient in the face of life's challenges. We aim to cultivate a culture that is steeped in the values and practices that we promote through our products and media channels. We welcome the cultural enrichment that comes from diverse experiences in education, class background, age, culture, ethnicity, race, color, sex, gender identity and expression, sexual orientation, nation of origin, languages spoken, able-bodiedness, religion and beliefs. We are invested in creating a work environment that supports each of us in feeling valued and recognized for our unique contributions to what we collectively produce, and where we each feel a sense of belonging.
Please mention podjobs.net in your application.