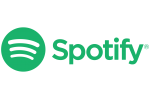 Associate Podcast Producer, Spotify Studios
A full time position at Spotify, Los Angeles CA, USA
Posted: Jul 30, 2020
Spotify is seeking a dynamic, creative Associate Podcast Producer to work on all elements of pre-production, production, and distribution of Spotify's internal podcasts. This includes managing and producing content for publication across all platforms as well as all aspects of audio production.
You'll be based in LA (eventually – but remotely for now) and part of a team focused on developing a diverse slate of original podcast programming.
What You'll Do:
Handle all aspects of audio production: scheduling, recording, assembling, mixing, and publication of episodes
Manage the production schedule for new shows including story selection, writing and researching scripts, overseeing recording sessions, post-production, sponsorship spots, and show promotion.
Contribute fresh ideas to keep content exciting and innovative, including suggestion of themes, stories, and content for upcoming episodes.
Provide ongoing feedback to help host talent reach their full potential.
Communicate regularly and in a timely manner with podcast hosts, senior level producers, story editors and team leaders throughout the production process.
Develop new ideas for current podcasts and brainstorm ideas for special episodes.
Help build and shape an expanding portfolio of podcasts within our team.
Who You Are:
3-4+ years related work experience preferred.
Passionate and knowledgeable about the podcasting medium, with ideas for how to innovate and create hit shows that break the mold.
Hands-on audio production experience, especially within podcasting. Proficiency with audio editing software (Descript, ProTools, Hindenburg) and publishing tools (Megaphone, and Anchor) strongly preferred.
Proficiency with creating pitch materials (presentation decks, budgets, schedules) preferred.
Comfort with utilizing the Google Suite in a professional setting preferred.
Ability to maintain high attention to detail in a fast-paced environment.
Comfort and experience with interacting with talent and talent reps.
Experience recording in a studio setting, in the field, and using remote kits from home.
Excellent interpersonal and communication skills, ability to work under pressure, and an ease with people from different cultural and educational backgrounds.
You are welcome at Spotify for who you are, no matter where you come from, what you look like, or what's playing in your headphones. Our platform is for everyone, and so is our workplace. The more voices we have represented and amplified in our business, the more we will all thrive, contribute, and be brilliant. So bring us your personal experience, your perspectives, and your background. It's in our differences that we will find the power to keep revolutionizing the way the world listens.
Spotify transformed music listening forever when we launched in 2008. Our mission is to unlock the potential of human creativity by giving a million creative artists the opportunity to live off their art and billions of fans the opportunity to enjoy and be inspired by these creators. Everything we do is driven by our love for music and podcasting. Today, we are the world's most popular audio streaming subscription service with a community of more than 271 million users.
This job has expired
We're sorry, but this job post has now expired, and you cannot apply for it any longer.