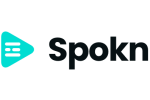 Podcast Producer
A part time Producer position
Fully remote: working with a USA-based team at Spokn.

Salary range: $70,000 to $80,000 (yearly rate) - subject to experience
Spokn is bringing podcasting to work!
Spokn is a podcasting platform for work. We're transforming the way companies inform and engage their employees in a remote-first world. Learn more about our company, customers, and investors here.
Help us introduce podcasts to the workplace
As our founding Podcast Producer, your mission is to envision how podcasting can help companies solve their biggest internal communications and employee engagement challenges - and help companies bring that vision to life through podcasts their employees love.
You'll combine your expertise in podcasting with Spokn listener data and customer insights to develop creative recommendations and playbooks for Spokn customers to follow in launching their podcasts. You'll create resources to simplify podcast production for our customers - everything from template scripts to example interview questions to recording tips.
You will be our in-house podcasting guru who masterminds how the concept of podcasting - which folks love in their personal lives - can dramatically improve their work lives, too.
Our customer are some of the most innovative companies in the world: Robinhood, Udemy, Snyk, Ginko Bioworks, and ServiceNow, to name just a few. So, our ideal candidate will have experience working in a high-growth tech company, and will be excited to transform activities like AMAs, All Hands, ERG events and more into podcasts.
Here's what we'll want you to do...
Create podcasts concepts that employees adore, and that help companies solve their communications and engagement pain points.
Partner with Customer Success and customers themselves to develop playbooks and standardized, scalable workflows that simplify podcast production for companies.
Draft templates, example scripts and question lists for common podcast use cases that customers can tailor to their company context.
Partner with customers and our audio engineer to produce a reference library of example podcast episodes for common use cases.
Curate a library of podcast music and visual assets for Spokn customers to use in their productions.
Use quantitative and qualitative data to analyze the efficacy of various podcast use cases and craft recommendations for Customer Success, Sales and Marketing.
Partner with Co-Founder and Marketing to produce Spokn's own (public) podcast for brand awareness, lead generation, and thought leadership.
We think this means you…
Produced multiple podcasts and have a sophisticated understanding of various formats.
Understand the production process from end to end, and can envision ways to simplify it for non-experts.
Are a storyteller with excellent communication and presentation skills.
Have experience using data to assess content performance and create data-backed recommendations
Are a talented multitasker with the ability to track multiple timelines and keep complex projects on schedule, even when deadlines shift.
Worked at a fast-growing company with 100+ employees, and have insight into the preferences and pain points of employees in this situation.
Bonus points...
Have worked in podcast audience development
Have worked in organizational communications, HR, and/or as an executive assistant and/or as a Chief of Staff
Familiarity with Descript software or other audio editing tools
What we'll offer you...
$70K-$80K annual salary plus equity
The opportunity to be in a highly collaborative role within a fast-growing startup
The choice to work remotely or from our office in NYC
100% employer-paid medical, dental, and vision coverage
Federal holidays off + vacation time
A fun, diverse, and international team
Ready to Join? Apply Today
---
Diverse and Inclusive Employer
You have a place at Spokn no matter who you are or where you're from. Our platform helps companies create more inclusive, human workplaces by giving every employee a voice. That's how we run our own company, too. We're committed to providing equal treatment and opportunity to all applicants at every stage of the hiring cycle and throughout their life at the company.  We don't discriminate based on race, color, religion, sex (including pregnancy, gender identity, and sexual orientation), national origin, age, disability, veteran or military status, or any other legally protected status.
Note: Research says that men tend to apply even if they only meet ~60% of the job qualifications, whereas women and other underrepresented groups are hesitant to do so. If you don't match 100% of the job qualifications but think you'd be a great fit, we encourage you to apply!
Please mention podjobs.net in your application.
More details
What does a Producer role normally entail?

The Podcast Taxonomy definition for a role like this in Creative Direction says: "The Producer coordinates and executes the production of the podcast. Thier duties can include helping craft the creative direction of a project, budgeting, research, scheduling, and overseeing editing and final production."
This exact role may have different requirements.