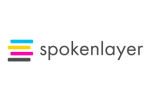 Creative Operations Project Manager
A full time Marketing Manager position
Fully remote: working with a USA-based team at SpokenLayer.

Salary range: $65,000 to $75,000 (yearly rate) - subject to experience
Who We Are: SpokenLayer is the leader in short form digital audio production. Each month, we produce thousands of 3-6 minute audio pieces for media companies such as Condé Nast, Time, Tribune and Hearst, as well as brands and advertisers such as General Mills, State Farm and Audible. Our unique audio content is distributed anywhere consumers can listen - via smart speakers, podcasting and streaming platforms, and the web. Our creative work recently won "Best Audio Campaign" by Digiday at their 2020 awards and we know how to engage listeners with our product. Love spoken-word audio and want to work with a team who is incredibly passionate about it? Keep reading!
The Opportunity: We are looking for a passionate and dedicated project manager to join our Creative Operations team, serving our growing portfolio of Fortune 500 advertisers. You will be a liaison to our internal creative teams and manage projects from beginning to end with some key client and partner communication. You will help to manage all aspects of project management from helping craft and review creative briefs to reviewing creative work, and staying on top of timing and budgets. You will be part of a team whose main mission is to keep raising the bar and provide top tier customer service to SpokenLayer's client base.
Responsibilities:
Create and own project timelines, creative deliverables, and project scopes and ensure they are being followed
Manage creative project expectations for external and internal stakeholders; create cross functional alignment on timeline, scope, and deliverables
Manage the creative workflow with both external and internal teams
Serve as a clear and service-oriented communication hub between the creative team, client services division, brand partners, and clients
Ensure all client requests are met in a timely manner
Become an expert in audio best practices, supporting the creative team with clear understanding of assets and workflow
Anticipate and mitigate risk of project incompletion, providing clear and solutions-oriented strategy to ensure execution excellence
Gain and maintain knowledge of client's business, industry and competition
Requirements:
Excellent written and verbal communication skills
Extremely detail-oriented and organized
Has strong relationship management, organizational and project management skills
Is able to work effectively with a variety of internal teams and business groups
Has a strong interest in audio content
Position Notes:
2-5 years of full-time experience in digital marketing, media or advertising (digital experience strongly preferred)
Agency or media company experience (preferred)
SpokenLayer is an equal opportunity employer committed to a diverse workforce. We encourage and consider all qualified candidates regardless of race, color, religion, national origin, sex, age, marital status, personal appearance, sexual orientation, gender identity, family responsibilities, disability, education, political affiliation, veteran status, or genetic information.
To apply
To be considered for employment in this role, please submit your resume and a cover letter to careers@spokenlayer.com with "Creative Operations Project Manager Application" as the subject.
Should you have the qualifications and experience that we are looking for, you will be contacted to schedule a meeting with SpokenLayer staff. For any questions, please email careers@spokenlayer.com and we will respond accordingly.
Start Date: Immediately Reports to: Director of Creative Operations Position type: Full-Time Location: Remote, Working on Eastern Time Zone
Please mention podjobs.net in your application.
More details
What does a Marketing Manager role normally entail?

The Podcast Taxonomy definition for a role like this in Administration says: "The Marketing Manager is responsibile for the promotion of a podcast's content through various awareness strategies such as social media campaigns, cultivating a web presence, managing public relations and communications strategies, and other creative techniques to acquire and retain listeners."
This exact role may have different requirements.