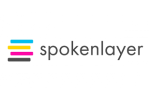 Advertising Production Lead
A full time Audio Engineer position
Fully remote: working with a USA-based team at SpokenLayer.

Salary range: $45,000 to $80,000 (yearly rate) - subject to experience
Who We Are: SpokenLayer is the leader in short form digital audio production. Each month, we produce thousands of 3-6 minute audio pieces for media companies such as Condé Nast, Time, Tribune and Hearst, as well as brands and advertisers such as General Mills, State Farm and Audible. Our unique audio content is distributed anywhere consumers can listen - via smart speakers, podcasting and streaming platforms, and the web. Our creative work recently won "Best Audio Campaign" by Digiday at their 2020 awards and we know how to engage listeners with our product. Love spoken-word audio and want to work with a team who is incredibly passionate about it? Keep reading!
The Opportunity: We are looking for an Advertising Production Lead who will bring stellar audio production skills and an ear for dynamic advertising to our creative team. Partnering closely with creative editorial and voice talent teams, this role will directly support our Advertising business, producing high quality ads across a variety of distribution channels and listening contexts.
As an Advertising Production Lead, you will work closely with internal project managers, voice talent, and writers to execute advertising for a variety of clients and industries. As an experienced audio producer, you have a deep understanding of mixing and mastering audio to platform specs, interpreting client-provided direction, and effectively communicating feedback to relevant stakeholders. You understand the modern advertising sound across a diverse spectrum of listening contexts (podcasts, music, news, etc.) and can leverage audio production to maintain the balance of positive listener experience and engagement. A successful candidate will demonstrate production excellence, a high attention to detail, and strong communication skills.
Responsibilities:
Drive strategy, best practices, and workflow improvements for audio advertising opportunities
Support team Director, Creative Ops, Advertising leads to develop workflows & best practices, optimizing the success of our advertising campaigns
Interface directly with clients to effectively communicate creative production strategy
Lead research on audio production trends in advertorial content, exploring emerging audio technologies and sharing findings with key team and client collaborators
Partner closely with advertising partners in voice and creative teams to create engaging advertorial content that directly support company and client KPIs
As the work grows, manage growing team of audio ad producers in both freelance and full-time capacities
Produce, mix, and master audio advertising
QA voice talent recorded audio for accuracy, performance, and recording quality, effectively communicating feedback when necessary
Select and edit music with client direction and listener experience in mind
Mix & master audio advertising to platform specifications, maintaining a high standard of quality
Collaborate with internal stakeholders to optimize workflow and performance
Work with team Director to continue to grow in your craft, fostering SpokenLayer's environment of collaboration and execution excellence
Support Brand and Publisher production needs as necessary, working closely with Director and Creative Ops to define priorities and ensure execution excellence
Requirements
Minimum 3-5 years of audio production experience in spoken word or advertising production with a keen ear for comping takes, enhancing voiceover quality, and editing music
Minimum 3-5 years of music or sound design production experience with the ability to produce high quality music and sound design across many genres
Expertise in a linear DAW with MIDI capabilities, such as Pro Tools, Ableton, or Logic Pro X
Highly effective and dynamic communicator with demonstrated experience collaborating with voice talent
Outstanding ability to work independently and with a team; must be an organized and confident self-starter able to autonomously manage workflow and deadlines, as well as an open-minded and generous creative collaborator
Ability to manage multiple tasks with confidence; comfortable shifting between strategic and tactical responsibilities
People-management and mentorship experience is a plus; demonstrated ability to lead a team with a genuine passion for fostering people-first growth and creative excellence**
To apply
To be considered for employment in this role, please submit an email with your resume and portfolio/work samples to careers@spokenlayer, with Advertising Production Lead Application, PodJobs as the subject. Should you have the qualifications and experience that we are looking for, you will be contacted to schedule a meeting with SpokenLayer staff. For any questions, please email careers@spokenlayer.com and we will respond accordingly.*
Start Date: Immediately
Reports to: Director of Audio Production
Position Type: Full-Time
Location: Remote
SpokenLayer is an equal opportunity employer committed to a diverse workforce. We encourage and consider all qualified candidates regardless of race, color, religion, national origin, sex, age, marital status, personal appearance, sexual orientation, gender identity, family responsibilities, disability, education, political affiliation, veteran status, or genetic information.
Please mention podjobs.net in your application.
More details
What does a Audio Engineer role normally entail?

The Podcast Taxonomy definition for a role like this in Audio Production says: "The Audio Engineer helps record and produce audio by setting up recording environments, monitoring recoding, and providing technical adjustments throughout. The Audio Engineer is present during the recording process, most often making adjustments in real time. The Audio Engineer may work with conversation, music, foley, or any other type of audio."
This exact role may have different requirements.