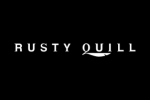 Head of Communications
A part time Social Media Manager position
Fully remote: working with a UK-based team at Rusty Quill.

Salary: £13.00 (hourly rate) plus Employee Assistance Programme (mental health, legal advice, etc)
About Rusty Quill
Rusty Quill (RQ) is a London-based, UK entertainment production company and podcast network. We specialise in creating original, free-to-consume content as well as offering third party production services, with the aim of providing an equal opportunity platform for new and interesting voices and talent. Our podcasts currently receive in excess of 5,000,000 listens each month and according to recent industry metrics, we are currently the most successful independent audio drama podcast network in Europe.
About you and the role
We are looking for a Head of Communications, reporting to our Chief Operations Officer to create and implement our internal and external communications strategy as we enter the mainstream media market and significantly scale-up our operations.
This role involves:
·        Creating and implementing our communications strategy for coming 2 years
·        Leading a small team to ensure deadlines for content are met and quality of output is high
·        Manage and set tone of voice and brand across all comms platforms
·        Telling the story of Rusty Quill both inside and outside the company
·        Quality control of all content reaching public domain (blogs, newsletters, social media, press relationships)
·        Foster a two-way working relationship with press and ownership of crisis comms protocols.
·        Act as liaise with any PR firms or external comms agencies as applicable, identifying stories and initiatives that can be made into press articles
·        Working closely with the Chief Marketing Officer to deliver marketing materials and support marketing campaigns
·        Lead on delivering targeted communications to key audiences to raise profile and engage staff and external stakeholders, in line with business strategy
·        Work closely with the Events Manager in the creation of branded materials for events
·        Craft and produce an internal communications plan that is efficient and realistic for you and your team
Requirements
We are looking for someone who has:
·        Senior level communications experience in an established company
·        Experience working across digital, social media and PR
·        Educated to degree level 2:1 or above in English or related degree.
·        Exemplary communication skills and comfortable with both line management of their own team and reporting to senior team
Person Specification
·        Highly Organised, self-disciplined and self-motivated
·        Able to work well in a distributed working environment with minimal oversight
·        An exemplary communicator
·        Actively interested in online media production (especially podcasting)
·        Familiar with our existing work and online communities
·        Comfortable with formal reporting where relevant
·        Comfortable engaging in "geek culture"
Benefits
You'll benefit from:
·        £12.50 PH (company all crew flat rate)
·        Negotiable hours
·        Flexible & remote working
·        Training and development via Rusty Quest
·        Paid Annual Leave
·        Diverse and friendly working environment
·        Our Health Assured Employee Assistance Programme (EAP)
Please mention podjobs.net in your application.
More details
What does a Social Media Manager role normally entail?

The Podcast Taxonomy definition for a role like this in Community says: "The Social Media Manager runs the social media accounts of the podcast, including but not limited to the creation of content, posting, replies, monitoring, and more."
This exact role may have different requirements.