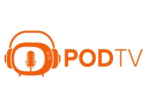 Strategic Ad Sales Director
A full time position
Fully remote: working with a USA-based team at PodTV.
Posted: April 8, 2021
Salary range: $100,000 to $0 (yearly rate) - subject to experience
PODTV is changing the landscape of Podcasting and ushering podcasters into the world of video!
We are a rapidly growing distribution platform of curated podcast video programming. Our platform allows podcasters to reach the more than 100 million cord cutters that have made the move to connected TV and OTT (Over the Top) streaming platforms. Our portfolio of content includes some of the industry's most notable podcast shows and our library consists of thousands of hours of programming that is delivered through our live linear streaming channels, VOD (Video on Demand) library, and App launching in May 2021.
We are seeking an innovative passionate individual to take on the critical role of Strategic Ad Sales Director. Since our primary source of revenue is through free ad supported streaming TV or "FAST", the Strategic Sales Director will be leading the initiative of building our advertiser network and selling ad inventory across our platforms.
We are looking for an outstanding Podcast Sales Executive to join our growing team. We're looking for someone with a proven record of revenue generation and a deep interest in podcasts and video programming innovation. We want someone who loves podcasts and knows how to communicate their value to clients and partners. You should be confident and a hard worker but know how to have fun.
YOUR JOB: Sell both podcast as well as digital video inserted advertising and other sponsor ad space options to grow advertising revenues by creating, maintaining, and sustaining relationships with media agencies, creative agencies, and clients directly Collaborate with the PodTV executives in developing our company sales goals that will drive revenue growth and advertiser retention. Work across multiple agency departments, i.e., radio, digital, branded content and innovation teams, to deliver successful campaigns Coordinate with marketing team to create successful ad campaigns Partner internally with sales support, operations and PodTV teams to maximize revenue for PodTV and our partners Focus on brand selling and inspiring our clients to leverage our podcast content to meet their their business goals and objectives Meet and exceed advertising revenue goals Attend weekly and monthly sales meetings as required Represent PodTV at events and serve as a brand ambassador Manage activity using Active Campaign and other internal systems Work Remotely
You Should Possess This Level of Experience: You have a bachelor's degree You have 5+ years of experience in a media agency/online sales role podcast and/or content sales preferred You have knowledge of online and offline media and have the ability to be creative with audio and digital client solutions You have strong presentation and negotiation skills and the ability to effectively close the deal You have the ability to build a pipeline and proven track record of exceeding goals You can handle working internationally and across multicultural environments through our content and distribution partners You have dexterity in creating reports and presentations using Excel, PowerPoint, Keynote, Google Docs, etc. You have a deep understanding of digital ecosystem You are a team player, adapt well to change with a positive attitude You are able to work in a fast-paced, non-hierarchal exciting environment and across external and internal teams to deliver creative, fresh campaigns
We are proud to foster a workplace free from discrimination. We believe that diversity of experience, perspectives, and background will lead to a better environment for our employees and a better product for our users and our creators. Our platform is for everyone, and so is our workplace.
Compensation:
$100,000-$200,000 annually (based on experience and results) Healthcare Benefits Flexible Time Off Policy
To apply
Please email Jeff White at JW@PodTV.Live with your CV and resume and note "Strategic Ad Sales Director position" in the subject line.
Please mention podjobs.net in your application.