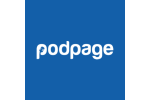 Head of Marketing
A part time position
Fully remote: working with a USA-based team at Podpage.
Posted: April 2, 2021
Podpage is the fastest growing, most loved platform for podcasters to create websites. Since launching in 2020, the platform has garnered praise from thousands of podcasters, as well as the School of Podcasting and been named one of the 7 Best Tools by the Podcast Host. If you want to see what our customers think, read our reviews on Product Hunt.
We're looking for someone to own our entire marketing strategy. This includes earned marketing, sponsorships, PPC, affiliate, email, content, and any other ways to expose Podpage to a broader group of podcasters.
The ideal candidate will have experience in the podcasting space, and have a track record of successfully growing a brand within the category.
To apply
Send an email clearly describing relevant experience and results to jobs@podpage.com. The best applicants will be very brief, but clearly articulate the following:
I have done something similar before.
I can clearly articulate how I can apply the success in the thing I did before to Podpage.
I'm excited about the Podpage product, and have even signed up for a free account to understand the user experience.
Please mention podjobs.net in your application.