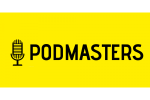 Junior Audio Editor
A full time Audio Editor position at Podmasters, London, UK
Salary: £25,000 (yearly rate) plus health, dental and optical insurance
Podmasters is growing and we are looking for a professionally trained audio editor looking for their first or second role to join our group. With daily output across our news, politics, current affairs, culture and entertainment podcasts, we need to add another skilled pair of hands (and ears) to edit conversation, stitch together narrative pieces and mix audio to create the most professional product possible.
You will be a focused, diligent individual who relishes the challenge of learning how to edit potentially long, sprawling conversations into pacy episodes; a detail-oriented, meticulous individual but with an understanding that deadlines are more important than the perfect product; someone with a trained background in audio production who can handle a wide range of output, both studio and otherwise to create a condensed, pleasing-to-listen-to result; someone with a passion for podcasts and preferably, a good understanding of news, politics and current affairs; and finally as a bonus, someone with music composition experience who can contribute to the overall audio palate and output of Podmasters.
What you'll do:
Studio / recording management – This will include everything from ensuring the setup is ready ahead of every session, guests have been briefed on how to use remote recording software, there are no booking clashes and even down to keeping things clean and tidy.
Work with our experienced audio editor/producers teams to learn how we record, edit and mix episodes on podcasts like Oh God, What Now?, The Bunker, Doomsday Watch, Origin Story and more.
Work across our client portfolio of podcasts, ensuring we can turn around an episode as quickly and professionally as possible.
Drive audio excellence – we operate with a flat structure and if you spot areas for improvement, we want to hear it. We'd love to see people with a keen ear and excellence in the use of mixing and mastering tools
As we grow and our output increases, we will need more bespoke music and audio experience – therefore a bonus will be someone who can create original music and soundscapes to spec to use across our podcasts.
About you:
We are open to seeing candidates who have just graduated to offer that first step into an audio career.
Alternatively, you may already have a job in audio and want to move into podcasting; please note, this is a junior role.
We are looking for someone hungry to work in a fast-paced environment and a company that is growing quickly; no two days will likely be the same and everyone gets a say in what we do so being up for the challenge and opportunity is important.
Experience using DAWs and audio editing software and a willingness to learn new platforms; you will be using Reaper here to edit.
Be a fan of podcasts and understand how sound is employed in different ways on different series.
Be open-minded, passionate, dedicated and a self-starter; we do not operate on the basis of micromanagement but rather that we hire people who can learn, grow and manage their work without us looking over their shoulder.
Podmasters
We're a rapidly growing independent podcast network, reaching over 1.5m listeners every month across brands like Oh God, What Now?, The Bunker, Doomsday Watch with Arthur Snell, Origin Story and more. We also have an extensive blue-chip client list which includes the Institute for Government, University of Leeds and i-D. We focus on making podcasts that others can't or won't, in a way that entertains and informs – whilst having fun making them.
Benefits include:
25 days' holiday
Pension
Private health, dental and optical cover for all employees
Paid-for professional training opportunities
Modern, attractive co-working space close to the Victoria, Piccadilly, London Overground and Great Northern Lines, as well as walking distance from Highbury Fields
Generous sick pay and work hours
A flat structure with great opportunity for progression – we've doubled in size in the past year and plan on doing so again in the next 12-18 months
To apply
Please send through a CV – please also send a two-minute piece of audio you've worked on (ideally a podcast) to give us a sense of the type of work you have done in the past to info@podmasters.co.uk.
Please mention podjobs.net in your application.
More details
What does a Audio Editor role normally entail?

The Podcast Taxonomy definition for a role like this in Audio Post-Production says: "The Audio Editor cuts and rearranges audio for clarity and storytelling purposes. The Audio Editor may also perform general audio processing and mastering."
This exact role may have different requirements.