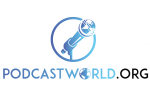 Female Podcast Co-Host
A part time Co-Host position at PodcastWorld.org, Kentish town London, UK
We have a weekly visual/audio podcast which goes out on all major platforms such as Youtube, Apple, Acast, Spotify, Stitcher, Soundcloud, Googleplay, Amazon music etc (see link below) and we're looking to add a female co-host onto the show with myself and my other co-host Charles.
(Copy & Paste link) https://www.youtube.com/watch?v=kZa7eVT5so4&t=115s
It's a weekly show but the co-hosting would be split when we do interviews so you would not be needed every weekend, however once a month all three of us will do a general chat show together so on average just two Sunday afternoons a month you would be needed and for about 2 hours total.
Take a listen to the shows and if interested then please get back to us with who you are, what you do and anything else you wish to tell us.
Within your response please...
1) Let us know which part of London you live?
2) Confirm that you have listened to atleast one of the shows?
3) Confirm you have a couple of Sundays free each month.
Many Thanks.
To apply
Get in contact via team@podcastworld.org to tell us about yourself.
Please mention podjobs.net in your application.
More details
What does a Co-Host role normally entail?

The Podcast Taxonomy definition for a role like this in Cast says: "The Co-Host performs many of the same duties as the host, while taking a secondary presence on the podcast."
This exact role may have different requirements.