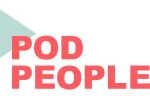 Senior Community Manager (REMOTE)
A full time position
Fully remote: working with a USA-based team at Pod People.
Posted: February 22, 2021
Salary range: $65,000 to $75,000 (yearly rate) - subject to experience
Pod People is seeking an experienced audio creator, community builder and natural connector to help us source and staff the right candidates for each of our clients' audio projects from our growing internal community of nearly 1,000 audio professionals. The Senior Community Manager will serve as the Lead Matchmaker for Pod People, recruit new professionals into our network, and help build the next version of our community.
On a typical day, the Senior Community Manager will communicate with both the internal team and external clients over email and Slack. They will attend weekly syncs and monitor multiple ongoing matchmakings for both client and internal roles. They will also be responsible for sending updates to clients and community members.
Matchmaking Responsibilities
Participate in client meetings to establish matchmaking project details (i.e. role requirements, job responsibilities, timeline and rate)

Craft accurate matchmaking job descriptions to ensure that we're sending excellent (and fair!) opportunities to our community, as well as pushing the Audio Industry's standards forward

Source top candidates for each role from within our community database and, when needed, spearhead additional outside sourcing (LinkedIn, referrals, relevant industry sites, etc.)

Create polished and creative presentations of top candidates for each role

Improve processes and workflows for existing systems
Recruiting Responsibilities
Actively and creatively recruit new community members with an emphasis on POC and marginalized creators, as well as senior-level candidates

Conduct onboarding calls to introduce Pod People to new members
Community Building Responsibilities
Assist in the creation of community resources like Industry Titles & Rates Sheet, Rate Calculator, and more

Work with the Head of Community to strategize and build the future of our Community, including events, social media engagement, and more
Who You Are
SELF-DIRECTED SENIOR LEADER with 5+ years experience building winning teams in audio, coaching individual contributors, and inspiring the overall organization.

EXPERIENCED AUDIO CREATOR with deep experience in the audio industry and a complementary knowledge of the various components and workflows required to create stellar audio experiences.

DIVERSITY, EQUITY & INCLUSION IN AUDIO is something that you think about in all of the work that you do, and you're committed to creating a safer, fairer, and more open industry for all creators.

COMMUNITY BUILDER & NETWORKER who understands the value of growing with our community, as opposed to growing for them. You also have a deep "rolodex" of audio creators at your disposal.

ANALYTICAL & PROCESS-ORIENTED person who loves AirTable, Google Sheets and thrives on being 3 steps ahead of the rest of the team.

DIPLOMATIC & ADAPTABLE professional who can deftly navigate complex relationships with clients, community members, industry partners and more.
Compensation and Benefits This is a full-time role with medical and dental benefits. The salary range is $65,000-$75,000, commensurate with experience. Pod People also offers a welcoming and inclusive company culture with unlimited vacation and time-off policy, a 3-day weekend each month, and the ability to earn equity in the company over time.
About Pod People Pod People is a global audio production and staffing agency. We're passionate about the power of audio storytelling, and helping our clients bring their stories to life. We've spent years curating a global community with the best audio creators from all over the world. We have some of the most talented producers, journalists, writers, editors, engineers, sound designers, and more—everyone who touches the process of making a best-in-class podcast.
Please mention podjobs.net in your application.