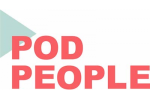 Sales Manager
A full time position
Fully remote: working with a USA-based team at Pod People.

Salary range: $70,000 to $80,000 (yearly rate) - subject to experience plus Health Benefits, Unlimited PTO
Pod People is looking for an experienced Sales Manager to support the Business Development team and oversee the day-to-day admin of pre and post sale activities. Ideal candidates will be highly adaptable and proactive, with a willingness to learn.
In this role, you'll work closely with our Senior Account Manager and Chief Revenue Officer to develop and maintain strong relationships with clients and facilitate cross-departmental processes.
Responsibilities:
Draft proposals, contracts, sales enablement materials, and case studies.
Support inbound client requests, internal pipeline management, and deal entry.
Maintain up-to-date accounts and contacts in our CRM (Hubspot) and create weekly revenue reports.
Drive purchase behavior and retention analysis using deal data.
Build and refine strategic internal and external workflows to monitor and manage client relationships.
Manage the day-to-day business-related client communications as needed.
Lead client calls and work towards a monthly quota.
Opportunity to expand into other marketing / sales responsibilities as interest and time allows!
Minimum Qualifications and Job Experience
At least 3+ years of experience in any of the following fields: Business/Sales/Communications/Business Development/Consulting
Great organizational skills with an eye for detail and self-direction.
Excellent written and verbal communication and presentation skills.
Exceptional time management skills displaying the ability to manage multiple tasks with attention to detail.
Acutely analytical with a problem solving, think-on-your-feet attitude.
Desired Characteristics
Organized, detailed, and communicative
Team player with a collaborative disposition
Creative problem solver and systems-oriented
Entrepreneurial and innovative
Strong interest in growing sales skills
Software Skills
Google Suite (Calendar, Slides, etc.)
HubSpot, PandaDoc, AirTable (a plus)
Compensation and Benefits This is a remote, full-time role with a salary in the annual range of $70-80K. Pod People covers 70% of premiums on our Healthcare package, has unlimited PTO, and a 3-day weekend each month. We strive to create a welcoming and inclusive company culture with every addition we make to our team.
About Pod People Pod People is a global leader in full-service podcast production and amplification. We are passionate about the power of storytelling, and helping our clients bring their stories to life, as well as developing our growing slate of creative Original podcasts.
We've also spent years curating a global community of professional audio makers. In addition to our incredible in-house staff, our community consists of 2500+ audio professionals (Producers, Editors, Sound Designers, and more) around the globe. We are diverse in talents, experience, and demographics.
To fully embody Pod People's values of Inclusion, Community, Balance and Authenticity, we look for and empower team members who are:
Left & Right Brained: Combining Creativity with Systematic Problem-Solving
Ambitious: Being Growth-Oriented, trusting our team to Execute, and facilitating Self-Direction
Community Driven: Building community through Authenticity, Kindness, Vulnerability, Inclusivity and Transparency
Pod People is an Equal Opportunity Employer (E.O.E.) Pod People is proud to provide equal employment opportunities to all qualified individuals and to administer all aspects and conditions of employment without regard to the following: Race, Color, Age, Sex, Sexual orientation, Gender, Gender identity and gender expression, Religion, National origin, Pregnancy, childbirth, Marital status, Physical or mental disability, Military or veteran status, or any other protected class.
Please mention podjobs.net in your application.