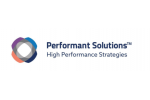 Marketing Manager
A full time position at Performant Solutions, Indianapolis IN, USA
Posted: May 29, 2020
Marketing Manager at Growing Indiana Based Company Indianapolis, Indiana
About the role This fast-growing media company focuses on creating top-tier podcasts, all of which have been in the top 5 on Apple, and they're listed as one of the most downloaded podcasts by Spotify.
As the Marketing Manager for this media company, you will manage the day-to-day marketing activities of the organization while creating and executing the long-term marketing strategy.
Marketing activities include developing creative concepts/content around show launches, continued show engagement, advertising, merchandising, hosts, and much more with brand cohesiveness throughout. The marketing manager will work closely with our internal teams, as well as PR, and will be required to interact with fans.
This is not a role for you if you prefer to manage and coordinate marketing projects through a marketing team. We want a hands-on marketing professional who enjoys a fast-paced work environment, the opportunity to work in all aspects of marketing, and who wants to be involved in the early stages of the company's success.
In this role, you'll get to:
Develop and implement strategic marketing initiatives in line with our company objectives
Create and execute marketing plans for our new launches
Coordinate marketing projects from start to finish
Plan, direct, and coordinate all marketing efforts
Manage the day to day marketing activities for the business
Manage WordPress site and blog posts and be responsible for SEO
Use data and analytics to make growth-minded decisions
Design and implement social media strategies to support our marketing goals and targets
Develop the plan for how each show/episode will be promoted and execute on the plan
Grow our social media following, engagement, and brand awareness
Create marketing campaigns to sell out our live events
We're looking for people who are: Self-Starters - you demonstrate an initiative and willingness to begin working without needing to be reminded, pushed, or coerced
Creative and Innovative - you enjoy being creative and leveraging new technologies and systems to achieve the desired result
Interpersonal Skills - you can effectively communicate and build rapport with all kinds of people
Personally Accountable - you take responsibility for your actions and do what you say you will do
Continuous Learner - you enjoy learning about industry trends and recommend how to leverage them to the fullest
Focused on Time and Priorities - you prioritize and complete tasks to deliver desired outcomes within the given time frame
Dedicated to excellence and high-performance - you possess a strong desire to do your best, take setbacks in stride, recover quickly, and continue to seek new ways to improve your performance
Coachable - you are humble, understand your strengths and weaknesses, and can translate feedback into action
These are the skills and background you'll bring with you:
Proven ability to create and execute a marketing plan for a fast-paced, growing business
Hands-on experience increasing brand awareness through social media
Deep knowledge and understanding of target audience/personas
Ability to create content in sync with a target audience
Exceptional knowledge and application of all major social media platforms, with an emphasis on Instagram, Facebook, Twitter, and YouTube
Deep understanding of leading and lagging marketing metrics
3 years as a Marketing Manager or similar role
Creative skills to design, develop, create, and edit content including copy, photos, and videos
An understanding of the podcast industry earns you a gold star **
These are the skills and background that will really make you stand out: • Desire and ability to proactively engage with an audience to increase brand loyalty • Very proficient with Instagram, Facebook, Twitter, and YouTube • Experience working with podcasts and/or radio
In exchange for your contribution to the team, you can expect to receive: • Competitive base salary + potential bonus incentive • Paid time off • 401k • Profit sharing • Team events and activities
Sound like you? Please apply if this is a role that would make you excited to come into work every day.
To apply
Upload your resume: https://performantsolutions.hirecentric.com/jobs/176019.html
Please mention podjobs.net in your application.