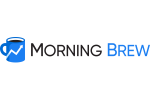 Executive Producer
A full time position at Morning Brew, New York, USA
Posted: Jul 29, 2020
Morning Brew is looking for a full-time Executive Producer of Audio to join our team. While this position is based in New York City, all Brew employees are currently working remotely until further notice.
Overview The Executive Producer of Audio will lead editorial for Morning Brew's current audio franchises. This person will guide content development and production for Business Casual, an interview-based show with 4M downloads-to-date, as well as our new business talk show, launching in Q4 2020.
Responsibilities
Guide editorial strategy and direction for Morning Brew's podcasts with the Head of Content
Work with each podcast team on week-to-week content development and guest selection, reviewing and greenlighting pitches and episode approaches
Ensure each step of the editorial production workflow is pacing as required
Generate new ideas to help push each show forward in the short and long term
Support each host and producer with strategizing and creation of associated content (e.g., multimedia, social, special episodes, live recordings)
Ensure high quality editing and technical production for each show
Work closely with the Product Manager of Audio on overall growth of each franchise
Manage and support the growth and development of our producers/editorsManage and support the growth and development of our hosts
Qualifications
A minimum of 5 years of experience in podcasts, with at least 2 years of experience as a leader of one or multiple podcasts managing editors, producers, and/or hosts
Experience with interview and/or talk-show based podcasts
A keen understanding of and excitement for the general business space
Strong creative vision and editorial judgement
Ability to guide audio editorial strategy in the Morning Brew style (clever, engaging, informative, witty)
An entrepreneurial, can-do attitude, with a bias towards growth Superior attention to detail and organization, especially when judging multiple projects with strict deadlines Outstanding interpersonal and communication skills
Comfort with ProTools is a plus
To apply
Apply on our site: https://jobs.lever.co/morningbrew/1b3f0da4-8d56-4da6-beac-fdacda88572f
Please mention podjobs.net in your application.