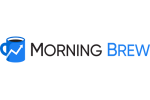 Associate Producer, Talent Development
A full time position at Morning Brew, New York NY, USA
Morning Brew is a media company that covers the business news and narratives shaping our world. The companies, the people, the workplace, the economy — we nerd out on this stuff, and we're dedicated to helping our audience navigate it all in a way that informs and entertains.
The Morning Brew team is clever, creative, and growing fast. Want in? Read on.
Overview We're looking for a highly motivated, extremely online individual to assist in the discovery and recruitment of talented creators to join our team. This role is best suited for an enthusiastic self-starter who routinely finds themselves falling down social media rabbit holes.
The ideal candidate loves discovering random acts of content genius and routinely follows little-known accounts that seem promising. The FYP isn't for you; you're more prone to getting lost in tags, trends, or general curiosity. And you're obsessed with finding the next big thing. (You were following Rod and Natalie long before they were cool.)
The Associate Producer, Talent Development will be expected to find new names and faces who have yet to be discovered by the algorithm. Talented creators who fit our brand aren't limited to any one platform or format: we're looking to work with individuals across social media, YouTube, podcasts...anywhere, really.
What You'll Do:
Comb the internet searching for up and coming creators that are making smart, clever content that informs and entertains.
Manage the full recruiting process from discovery, outreach, initial meetings, feedback and auditions
Work with producers and hiring managers to outline the interview and/or audition process, offering guidance and a vision for where these creators could fit in at the Brew
Represent the Morning Brew brand by creating a fun and organized interview and/or audition process
Qualifications
5-plus years experience in recruiting or talent scouting/development
Knowledge of social media platforms and how they operate a must
Strong relationship building-skills
Proven ability to multitask and prioritize
Comfortable offering and receiving feedback
A passion for the Brew's key content areas: business, work-life and money What else are we looking for? Character and integrity rank pretty high on the list. Our team is guided by our core values:
· Curious - We strive to learn every day through constant questioning and exploration. · Purposeful – We do everything with the highest level of thoughtfulness, preparation and focus. · Empathetic - We are good, genuine people who embrace others' perspectives. · Challengers - We approach every day with an underdog mentality and are never complacent.
Perks: While being surrounded by a bunch of cool people who look great in crewnecks is its own reward, we have plenty more to offer.
Unlimited sick and vacation time: And by "unlimited," we mean absolutely unlimited. Remote-work friendly: Work from home, work from the office, work from the moon — you decide. 401(k) employer match: We want to help you prepare for the future, now. Premium healthcare plans: Your health matters! Work from home stipends: Upgrade your home office on us. Annual learning credit: Want to learn something new? We'll pay for it.
Morning Brew is committed to building a diverse and inclusive team that's representative of our audience.
Please mention podjobs.net in your application.