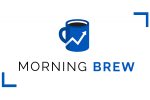 Associate Producer, Business Casual
A full time Associate Producer position
Fully remote: working with a USA-based team at Morning Brew.

Salary range: $60,000 to $65,000 (yearly rate) - subject to experience plus health, vision, and dental insurance, 401(k) with match, unlimited PTO, WFH stipend, education credits, generous paid parental leave, Morning Brew swag
We're looking for a full-time Associate Producer to join our fast-growing multimedia department. This is a hybrid position, working out of our NYC headquarters, but we'll also consider fully-remote candidates within the U.S.
As Associate Producer, you will have a variety of responsibilities across Morning Brew's podcast and video content, specifically assisting in the twice-weekly production of the Business Casual podcast. Your duties will be diverse and wide ranging, from day-to-day pre-production tasks including episode pitches and development, research and script writing, as well as post-production tasks including Descript editing (preliminary audio and video edits), and social video clip review/selection.
Great candidates have excellent attention to detail and are comfortable working in a deadline-driven, fast-paced environment.
What you'll do: -Writing research and and interview prep docs for the host for an average of 3 to 4 tapings each week -Having ownership of segments you're producing/ live producing during tapings -Being part of the creative and development process; pitching episode/guests during editorial meetings -Working with publicists, the senior producer and booking producer to assist in scheduling and calendar management -Doing the initial podcast and video edit on Descript -Highlighting social clips from each episode
What you'll bring: -At least 2-3 years experience in media and podcast production -Enthusiasm for and working knowledge of the Brew's key content areas (business, work life, money) -Strong research and writing ability -Experience with Descript, familiarity with Pro Tools a plus -Understanding of social video platforms (YouTube, TikTok, Instagram, Twitter) -Outstanding communication, collaboration and organizational skills -The ability to work on a deadline
Please mention podjobs.net in your application.
More details
What does a Associate Producer role normally entail?

The Podcast Taxonomy definition for a role like this in Creative Direction says: "The Associate Producer performs one or more producer functions as delegated to them by a Producer."
This exact role may have different requirements.