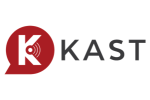 Audio Editor
A project or contract position at Kast Media, Los Angeles CA, USA
Salary range: $48,000 to $520,000 (yearly rate) - subject to experience
About Kast Media: Kast is a premium multi-channel podcast network of 40+ shows reaching over 13 million unique monthly listeners and viewers. Kast Media is one of the largest podcast networks, consistently ranking in the top 15 publishers each month as measured by third-party services, such as Podtrac. Some of our shows include The Opportunist, The Sarah Silverman Podcast, The Viall Files, The King and the Sting, and Chatty Broads, among others.
About This Role: Kast Media is looking for an Audio Editor for our narrated shows who will serve as a part of the production team. This position will report directly to the Head of Technical Production and the Technical Supervisor, and will work remotely until our Los Angeles based studio is fully back open.
How Will You Spend Your Time?
Narrative show needs:

Mix/Master music and SFX to be used in the episode
Use music and SFX to bring the audio narrative alive
Assemble a narrative episode from recording sessions with multiple takes

Working with producers on your assigned shows to cut weekly episodes
Working with Video Editors to ensure audio quality is on par with Kast standards
Attending weekly tech call meetings
Working with other tech team members and helping out with other shows when you can
You Should Have:
Knowledge of Adobe Audition or Pro Tools (Required)
Knowledge of Izotope RX
Dialogue Audio mixing, editing, and workflow
Our Dream Candidate Has:
Experience working on narrative shows (ideally in film/tv or podcasts)
At least 3 years of experience with Adobe Audition or Pro Tools
At least 3 years of experience with Izotope RX
Great communication and time management skills
Knowledge of Audio workflows
A strong desire to really take ownership and be a team player
A charismatic personality and a great sense of humor
Kast Media is committed to creating a diverse environment and is proud to be an equal opportunity employer. All qualified applicants will receive consideration without regard to race, ethnicity, religion, gender, gender identity or expression, sexual orientation, national origin, genetics, disability, age, or veteran status.
Job Type: Full-time, Contract Pay: $48-52k per year
Our Superstars:
Live, breathe, and sleep podcasts
Are not afraid to raise their hand first and go the extra mile
Waste no time and have a bias for action
Love to win, but love being on a winning team even more
Constantly want to learn and evolve
Are solution-oriented, but know when to ask for help
Have a good sense of humor, and aren't afraid to show it off
And most importantly, are good people
To apply
To apply, send your resume to careers@kastmedia.com, and include "Audio Editor" in the subject heading.
Please mention podjobs.net in your application.