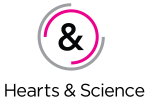 Assistant Negotiator, National Audio Investment
A full time position at Hearts & Science, New York NY, USA
This is an entry level position within the National Audio Investment team, which includes responsibilities across National Terrestrial, Streaming, and Podcasting. Primary responsibilities include assisting the Negotiator with overall execution and management of media efforts for assigned clients including planning, negotiating, providing cost/ratings estimates and relationship development. This position requires the development of negotiation skills and understanding of client needs and corporate trade business models. Duties will be supervised by the Negotiator and Manager.
Core responsibilities include, but are not limited to the following:
Inputting and stewarding client schedules – including season-to-dates and post-analyses Handling day to day client scheduling requests Trafficking digital (Audio, Video, and Display) assets for Streaming and Podcasting campaigns Creating and analyzing reporting for Podcasting campaigns Coordinating billing discrepancy resolution with vendors and finance Developing and maintaining quarterly flighting chart for brands responsible for Monitoring program content screenings, do not air lists, time locks and day restrictions Developing quarterly post buy analysis Assisting in creating client presentations
Desired Qualifications:
Applicable internship experience in a media or advertising agency A specific interest in Audio, particularly in the growth of Streaming and Podcasting Excellent verbal and communication skills Strong math and analytical skills Team-oriented and detail-oriented Organization and multi-tasking skills Strong work ethic and ability to perform under pressure Basic media math knowledge Bachelor's degree, preferably with a degree in Advertising, Marketing, Business Administration or Communications
Please mention podjobs.net in your application.