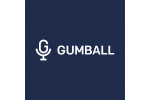 Podcast Partnerships Manager
A full time position
Fully remote: working with a USA-based team at Gumball.

Gumball is searching for a Podcast Partnerships Manager to join our Podcast Acquisition team. You will be primarily responsible for recruiting and onboarding the best podcasts to join our premier host-read ad marketplace. You will have the opportunity to build strong and deep relationships with today's brightest podcast talent and industry players to grow a community of creators on our platform.
You're a relationship-driven, analytical, and hard-working podcast enthusiast who loves spotting upcoming talent and helping creators make money and stay independent. You're a curious and insatiable learner, and you consider yourself tech-savvy. You will act as a talent scout, recruiter, and strategist for podcasts. You're outgoing, strategic, and organized, with an eye toward growth. You will be responsible for owning a portion of the podcast recruitment strategy and helping new creators get onboarded to Gumball. This role reports to our VP of Business Development.
Los Angeles or New York based preferred, open to remote work.
Key Responsibilities
Recruit podcasts to list their inventory on Gumball
Drive Gumball's inventory growth by contributing to a holistic podcast recruiting strategy, and driving pipeline growth
Identify and qualify shows and creators that are the best fit for our platform
Produce and execute sales representation agreements
Manage the onboarding process for new shows who join the platform
Assist with identifying content and programming needs that align with our overall acquisition strategy
Collaborate with our sales team and podcast hosts to expand custom campaigns and sponsorship initiatives
Occasional domestic and international travel may be involved (when safe to do so)
Key Qualifications
At least 2+ years of sales, business development, or A&R experience with an audio or media company
Excellent communication, interpersonal, and writing skills
Can elegantly maintain a casual and friendly tone during professional conversations
Have strong negotiation skills to get to yes, and understand when to say no
Knowledge of the podcast industry and enthusiasm for its future, particularly for independent creators
Strong attention to detail, comfortable with negotiating deal terms and executing contractual agreements
A motivated self-starter who takes initiative on new ideas
Nice-to-Have
Experience working in a start-up or rapidly growing mid-size business
Host your own podcast, or create digital media and content on a regular basis
An understanding of digital media economics and the evolving ecosystem of the creator economy
About Gumball and Headgum
Gumball.fm is advertising marketplace with an emphasis on host-read ads (built by the team at Headgum, a comedy podcast network). We are a small startup team with bright ideas that likes to move fast and have fun. Forward thinking and tech savvy, we're looking to add creative, intelligent members who are looking to face any challenge the industry may present. Join us and build the future of on-demand audio.
To apply
Apply on Website: https://headgum.recruitee.com/o/podcast-partnerships-manager-los-angeles
Please mention podjobs.net in your application.