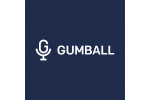 Director, Business Development
A full time position
Fully remote: working with a USA-based team at Gumball.

Job description
Gumball is searching for a Director of Business Development to join our Podcast Acquisition team. We're looking for someone with experience negotiating strategic partnerships — who can quickly analyze pitches, execute contract renewals, and help grow Gumball's premier host-read ad marketplace through content acquisition and business development. You will be responsible for developing and executing a podcast acquisition strategy that relies on a human connection with podcast creators, podcast networks, and talent agencies. This is a hands-on role that will have a tangible impact on the direction of the company. This role reports to our VP of Business Development.
Los Angeles or New York based preferred, open to remote work.
Key Responsibilities
Source and negotiate new partnerships with individual podcasts, podcast networks, and media companies
Stay knowledgeable on competitive intelligence and developments on the podcast ecosystem
Work directly with major talent agencies, entertainment lawyers, and talent to negotiate sales representation agreements
Provide business development support to existing creators on the platform, expanding our partnerships wherever possible
Lead all aspects of the deal lifecycle from lead generation to contract execution
Work closely with colleagues from other departments including marketing, platform success, and sales to improve the performance of Gumball's roster of shows
Build and maintain relationships with podcast networks, distribution platforms, and remain active in online podcast communities
Occasional domestic and international travel may be involved (when safe to do so)
Key Qualifications
5+ years of work experience, 2+ years in a similar content acquisition, operations, or partnership role at a media company, platform, or talent agency
Ability to construct financial forecasts and models to guide acquisition decisions
Intuitive understanding of industry best practices
Excellent negotiating skills with agents, executives, and producers
A highly motivated and results-driven person who will aggressively pursue new opportunities, and drive them through the entire acquisition cycle
Knowledge of the podcast industry and enthusiasm for its future, particularly for independent creators
Ability to work independently in a fast-paced environment
Strong understanding of digital media economics and the evolving ecosystem of the creator economy
Nice-to-Have
Experience working in a start-up or rapidly growing mid-size business
Host your own podcast, or create digital media and content on a regular basis
To apply
Apply on Website: https://headgum.recruitee.com/o/director-business-development
Please mention podjobs.net in your application.