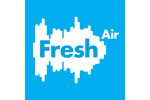 Assistant Producer
A full time Production Assistant position at Fresh Air Production, London, UK
Salary: £30,000 (yearly rate) plus Health Insurance & Pension
We're looking for a brand new Assistant Producer to join Fresh Air. We have a wonderful team who make brilliant podcasts for amazing clients, and we need someone extraordinary. If you're interested, you'll find the full job description, salary and package on the link.
Please mention podjobs.net in your application.
More details
What does a Production Assistant role normally entail?

The Podcast Taxonomy definition for a role like this in Administration says: "The Production Assistant helps support an executive member of a podcast (often a director or producer), helping prepare them in a variety of ways including scheduling, logistics, communications, and more."
This exact role may have different requirements.