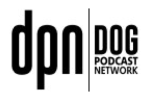 Senior Podcast Producer : Must LOVE Dogs
A full time position
Fully remote: working with a USA-based team at Dog Podcast Network.
Posted: Sep 15, 2020
Dog Podcast Network - DPN
Dog lovers are a special breed. We have a unique perspective on the world. It's what bonds us. Our canine companions might not be our whole life, but they sure do make our lives whole.
DPN is the first of its kind. A podcasting network as devoted to dogs as they are to us.
Our mission is simple: entertain, inspire and inform. Our shows help improve the quality of life for dogs and the people who love them. We are hiring a senior producer for our flagship show: "Dog Edition."
The Job
We are seeking an experienced producer to join our team as we launch "Dog Edition" a magazine-formatted show aimed at dog lovers. (You can think of it as the "All Things Considered" for people who love dogs.)
You will be involved in every aspect of production from pitching story ideas to booking guests and from writing scripts to cutting tape—all the way through until the episode drops. You should be a pro at going thru hours of tape, finding the best bits, writing copy around it and creating an interesting story.
As Senior Producer, in addition to working on your own segments, you will help grow, nurture and manage a team of freelance correspondents and reporters who live around the globe.
We are a collaborative team that is distributed across the US, Asia and Europe. Our headquarters are located in Maui, Hawaii. That means you can work from anywhere, but you must have great internet connectivity, superb communication skills, and the ability to manage people and deadlines across time zones.
The ideal candidate is a creative producer with a background in audio journalism and a true love for dogs.
Job Responsibilities-What You'll Do
• Research and pitch dog-centric story segments
• Book guests, Conduct pre-interviews, Prep host
• Record interviews remotely and gather sound
• Write scripts for individual segments and the full show
• Edit segments
• Manage the show's editorial calendar
• Grow and nurture a team of freelance correspondents/contributors
• Evaluate submissions four our "101 Dog Stories Contest" (see DogPodcastNetwork.com/101)
• Work with our sound engineers on the final episode edit
• Write promotional content and coordinate with our marketing team
Who You Are & What You'll Bring
A natural and enthusiastic storyteller and a passionate dog lover
A minimum of three years of experience producing audio for podcast or radio
A portfolio that demonstrates an ear for great tape and inventive approaches to audio storytelling
Exceptional writing skills aimed at the listener's ears-- not the reader's eyes.
Demonstrated ability managing a team of reporters/producers/content creators
Proven work history of exceptional organizational and time management skills
Prior relevant experience and the desire to create something original
Technical Skills Required
Proven experience in audio storytelling and audio production.
Bachelor's degree preferred
Hands on audio editing skills and experience with audio editing programs, such as Hindenburg, ProTools, or Audition.
Familiarity with field recording kits and studio recording setups.
Deep understanding of the digital media landscape and an avid podcast listener.
What We Need From You
Send us your cover letter, resume and direct links of your past work. Creativity is strongly encouraged! Use the link below.
Benefits
Flexible schedule
Paid Time Off
Training & Development
Work From Home
Please mention podjobs.net in your application.