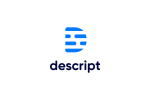 Product Specialist / Customer Success
A full time position
Fully remote: working with a USA-based team at Descript.
Posted: Nov 20, 2020
As Customer Success Manager at Descript, you'll be the main point of contact to world-renowned companies across the media and production industry (The New York Times, The Washington Post, Pushkin Industries, Spotify / Gimlet) and leading businesses (Intel, HubSpot, Prudential, etc). You are responsible for empowering customers to succeed using Descript, building and maintaining long term relationships across multiple industries and positioning Descript to become an industry standard for media creators.
In a typical day, you may:
Hold a Descript training session for a new Enterprise client
Meet with top media producers and creators to help them understand how Descript fits into their production workflow
Provide pricing information for potential Enterprise customers
Record demo materials for upcoming presentations
Collaborate with your amazing Descript team members.
In this role, you will:
Own the customer relationship between Descript and major video, audio, and business use case customers from first contact through onboardings, training, and annual renewals.
Understand customers' needs and challenges and use a consultative approach.
Recommend how Descript solves problems, creates new opportunities, and integrates into the client's workflow. When it makes sense for the customer, you will maximize our sales opportunities with the prospects that we have. (Our sales team is a commission-free environment and our goal is to develop long-term relationships with the teams we work with.)
Deliver complex information and features in the easy-to-understand manner.
Prioritize your schedule based on business responsibilities and customer needs ownership.
Possess a product specialist's charisma and first-hand expert knowledge of Descript and the video/audio workflows.
Please mention podjobs.net in your application.