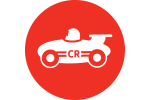 Summer Producer/Coaches: Podcast Education
A project or contract position at CitizenRacecar, New York NY, USA
Salary: $30.00 (hourly rate)
CitizenRacecar seeks motivated producer/coaches this summer to help teach the next generation of audio journalists!
CitizenRacecar is an industry-leading company that provides nonprofit organizations, government agencies, and forward-looking companies around the country with production of emotionally engaging audio and video media.
In a unique program created in collaboration with one of the leading providers of after school programming in New York City, we're teaching 5th- through 8th-grade students the fundamentals of audio storytelling and empowering them to create their own podcast series.
We need part-time, temporary audio journalism professionals in NYC to coach and supervise teams of kids at multiple schools around the city as they create regular episodes where they talk about the issues they care about and current events in their schools and communities.
Duties include:
Traveling to school sites all around the five boroughs
Inspiring kids with the possibilities of audio storytelling
Training and supporting their use of recording equipment and text-to-audio editing software
Processing recorded files for our post-production team to polish and publish
Regular administrative meetings
Two-month contract, June 15 – August 15, 2023, with possible renewal for the 2023/24 school year. $30/hour, 25-30 hours per week. On-clock hours include travel and prep.
Must have both audio production and storytelling experience and experience working with children. Must be either a US citizen or a resident with green card and social security number. Must be based in the NYC metro area and willing to travel regularly to Bronx, Brooklyn, and Queens. Must pass New York City DOE and DOH background checks.
To apply
Please send resume and cover letter to pitcrew@citizenracecar.com
Please mention podjobs.net in your application.