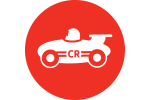 Manager: Podcast Education
A full time position at CitizenRacecar, New York NY, USA
Salary range: $65,000 to $70,000 (yearly rate) - subject to experience plus Health Insurance Reimbursement
CitizenRacecar seeks full-time manager to lead our podcast education team!
CitizenRacecar is an industry-leading company that provides nonprofit organizations, government agencies, and forward-looking companies around the country with production of emotionally engaging audio and video media.
In a unique program created in collaboration with one of the leading providers of after school programming in New York City, we're teaching 5th- through 8th-grade students the fundamentals of audio storytelling and empowering them to create their own podcast series.
We're looking for a creative and organized NYC-based manager with passions for both audio production and middle-grade childhood education to lead our team of traveling podcast education coaches: managing schedules and workload, helping refine the curriculum, solving logistical issues, and inspiring and motivating them to do their best work.
Duties include:
Involvement in recruitment and training of coaches
Liaising between coaches, our client, and the CitizenRacecar administrative and post-production teams
Managing scheduling and travel needs of coaches and substitutes
Periodic travel to various school sites for spot-checks and in-person supervision
Technical support for recording equipment and software
Managing the processing recorded files for our post-production team to polish and publish
Regular administrative meetings.
Full time, mostly remote with some in-person supervision, recruitment, and training at various locations. $65,000–$70,000/year plus health insurance reimbursement.
Ideal candidate will have extensive experience in management, education, and audio journalism. Must be either a US citizen or a resident with green card and social security number. Must be based in the NYC metro area and willing to travel to Bronx, Brooklyn, and Queens. Must pass New York City DOE and DOH background checks.
To apply
Please send resume and cover letter to pitcrew@citizenracecar.com
Please mention podjobs.net in your application.