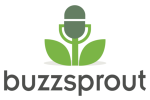 Podcaster Support Specialist
A full time position
Fully remote: working with a USA-based team at Buzzsprout.

Salary: $47,000 (yearly rate) plus PTO, 401k + 6% matching, excellent health insurance, internet + cell phone reimbursement
Buzzsprout is looking for a Podcaster Support Specialist to join our podcaster support team. This person will report to the Head of Podcaster Support and work closely with the rest of the support team to provide remarkable support and guidance to our community of podcasters.
About The Job
The Buzzsprout podcaster support team serves as the primary touchpoint for podcasters and aims to provide them with timely, clear, and friendly support. We are looking for a Podcaster Support Specialist to help us expand our coverage on nights and weekends.
You will be expected to learn about Buzzsprout and work with our podcasters to answer questions and resolve issues in line with the voice and expectations established. You will primarily support podcasters through email but occasionally this may require phone support.
Responsibilities include resolving podcaster questions, recommending solutions, and guiding podcasters through features and functionalities. To be successful in this role, you should be an excellent communicator, who is patient, empathetic, and passionate about helping others.
Please note this remote position is only available for people based in the United States.
Please mention podjobs.net in your application.