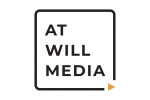 Executive Producer
A full time position
Fully remote: working with a USA-based team at AT WILL MEDIA.

About AT WILL MEDIA
One of the fastest growing independently-owned podcast studios in the U.S., AT WILL MEDIA is an award-winning, full-service production company with offices in Manhattan and Los Angeles, founded in 2016 by CEO Will Malnati. With decades of combined experience in storytelling, we are a go-to partner for podcast production services and set the pace for the podcast industry in fictional and nonfiction originals.
Our originals include the Audible Original scripted comedy Sorry Charlie Miller starring Zachary Quinto, Michelle Buteau, Jesse Tyler Ferguson and Ashley Benson; Webby-award nominated scripted series 14 Days with Felicity starring Jordan Klepper and Helene York; and a recent partnership with Paul Feig's digital production company Powderkeg to produce the scripted comedy The Case of Adirondack Rose, penned by Amy Reed exclusively for Spotify. Our highly anticipated originals include Breakthrough, the first ever audio-only singing competition in partnership with Audible, and Wild Things, a nonfiction series exploring the lives of Siegfried and Roy, in partnership with Emmy-award storyteller Steven Leckart for Apple TV+.
What We Are Looking For
AT WILL MEDIA (AWM) is currently seeking an Executive Producer to lead the development, production, and execution of original podcasts. The Executive Producer will help define our fiction and non-fiction programming slate and manage a team of Supervising, Senior, Associate, and Development Producers. The Executive Producer reports to the CEO and will be a part of AWM's executive leadership team.
The successful candidate is an experienced people-manager who can help us meet the highest quality production standards. They have knowledge of distributor and network expectations in the entertainment industry and excel at partner management. The ideal candidate is relationship-focused and process-oriented. They have a collaborative attitude, find proactive solutions, and have the ability to manage ambiguity.
Candidates based in NYC or LA preferred, but we are open to a remote situation for the right candidate.
Responsibilities & Duties
Collaborate with development team to plan the scope and strategy of our original slate
Create strong teams for original projects made up of full-time staff members and/or contractors
Provide ongoing feedback and operational improvements to production teams
Prepare project budgets/timelines, evaluating and iterating as necessary to meet financial goals
Oversee project format and outline creation in collaboration with external partners
Build rapport and maintain ongoing communications with studio executives and creative partners
Ensure timely and accurate concept and asset deliveries to team and partners
Manage productions in line with SAG guidelines. This would include leading the casting process, when necessary.
Manage relationships with contractors and specialists on development and production projects
Liaise with legal and executive team leadership to draft and execute contracts, statements of work, and agreements and documents for new contractors and partners.
Qualifications & Skills
B.A. or B.S. degree from an accredited university, preferably in Film/Audio Production, Journalism, or equivalent industry experience
10-year minimum industry experience
Strong editorial judgement, hands-on production skills, and the ability to deliver clear feedback
Foundational knowledge of funding mechanisms and development processes; high level negotiation skills
Comprehensive understanding of entertainment programming interests
Proven ability to manage creative teams
Skilled in finding new talent and trends
Familiarity with legal and contractual processes relating to commissioning, licensing, and optioning formats
Excellent and strategic written, interpersonal, and verbal communication skills
Working knowledge of G-Suite, Slack, and Airtable
To apply
We are an equal opportunity employer and value diversity at our company. We do not discriminate on the basis of race, religion, color, national origin, gender, sexual orientation, age, marital status, veteran status, or disability status. If this position sounds like a good fit for you, please send a cover letter and resume to jobs@atwill.us with the subject line "EXECUTIVE PRODUCER". We look forward to hearing from you!
Please mention podjobs.net in your application.