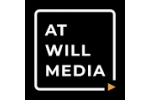 Executive Podcast Producer
A full time position
Fully remote: working with a USA-based team at AT WILL MEDIA.

Salary: $110,000 (yearly rate)
About AT WILL MEDIA
One of the fastest growing independently-owned podcast studios in the U.S., AT WILL MEDIA is an award-winning, full-service production company, founded in 2016 by CEO Will Malnati. With decades of combined experience in storytelling and sound design, we set the pace for the podcast industry as a partner for production services and critically acclaimed originals.
Originals: In 2022, our diverse slate of non-fiction and scripted originals consists of the Webby Award-nominated Wild Things, an Apple TV+ docu-series exploring the lives of Siegfried and Roy, the first ever audio-only singing competition in partnership with Audible, and KOZ, a scripted narrative about the real life of undercover ATF agent Darrin Kozlowski. Other originals include the Audible Original scripted comedy Sorry Charlie Miller starring Zachary Quinto and Michelle Buteau, and the Webby Award-nominated scripted series 14 Days with Felicity.
Production Services: Partners and clients include The New York Times, Amazon Prime Video, Netflix, Apple TV+, Marriott Bonvoy Traveler, Ford, Verizon, Entertainment Weekly, GQ, Morgan Stanley, Bleacher Report, The Clinton Foundation, and Viacom/CBS. AT WILL MEDIA is a Webby Award winner and has received nominations for "Best Branded Podcast" at the iHeartRadio Podcast Awards and "Best Entertainment Podcast'' at the 2021 Ambie Awards.
What We Are Looking For
AT WILL MEDIA (AWM) is seeking an Executive Podcast Producer to oversee the development, production, and execution of a slate of original shows. This role requires professional podcast experience at a network, production company, or distributor/media company. The Executive Podcast Producer will help define our fiction and non-fiction programming slate and manage our production team. The Executive Podcast Producer reports to the CEO and will be a part of AWM's executive leadership team.
The successful candidate is an experienced people-manager who can help us meet the highest quality production standards. They have knowledge of distributor and network expectations in the entertainment industry and excel at partner management. The ideal candidate has deep industry knowledge and proven experience with new show development, talent, and staffing.
Responsibilities & Duties
Oversee AWM's entire slate of original programming across, including teams of fiction and nonfiction producers
Collaborate with development teams to plan the scope and strategy of our original slate, take the lead on transitioning projects from development to pre-production
Staff strong teams for original projects made up of full-time staff members and/or contractors
Manage relationships with contractors and specialists on development and production projects
Liaise with legal and executive team leadership to draft and execute contracts, statements of work, and agreements and documents for new contractors and partners
Oversee project format and outline creation in collaboration with external partners
Build rapport and maintain ongoing communications with studio executives and creative partners
Provide ongoing feedback and operational improvements to production teams, along with establishing/overseeing workflows and processes across all originals projects
Prepare project budgets/timelines, evaluating and iterating as necessary to meet financial goals
Qualifications & Skills
B.A. or B.S. degree from an accredited university, preferably in Film/Audio Production, Journalism, or equivalent industry experience. MA a plus.
10-year minimum industry experience, 4+ years managing podcast production teams
Strong rolodex and/or relationships with key podcast distributors, producers, and executives
Proven success launching podcasts and/or running a slate of programming
Strong editorial judgment, hands-on production skills, and the ability to deliver clear feedback
Foundational knowledge of funding mechanisms and development processes within the film, TV, and audio industries, high level negotiation skills
Strong vision for the future of podcasting and untapped audiences/revenue streams
Comprehensive understanding of entertainment programming interests
Proven ability to manage creative teams
Skilled in finding new talent and trends
Familiarity with legal and contractual processes relating to commissioning, licensing, and optioning formats
Excellent and strategic written, interpersonal, and verbal communication skills
Working knowledge of G-Suite, Slack, and Airtable
Candidates who meet most but not all of the qualifications above are still encouraged to apply.
Reports To: CEO
Works With: Supervising Producers, Sr. Development Manager, and Sr. Director of Business Development
Job Type: Full-time
Salary Range: Starting at 110K
AT WILL MEDIA offers a comprehensive total rewards (salary and benefits) package:
Competitive salaries
Comprehensive medical, dental, vision and life insurance plans
401k retirement plan
Flexible spending accounts
Unlimited PTO and company paid holidays
Remote and work-from-home arrangements
Other flexible benefits
Location: In response to COVID-19, this position is currently remote. Candidates based in NYC or LA preferred.
AT WILL MEDIA is committed to providing equal employment opportunities to qualified individuals regardless of their race, color, religion or belief, age, sex, gender identity or expression, national origin, ancestry, sexual orientation, physical or mental disability, veteran status, or family or parental status and to conform to all applicable laws and regulations to that regard. The AT WILL MEDIA equal employment opportunity policy includes all aspects of the employment relationship, including application and initial employment, promotion and transfer, administration, and the application of service, retirement, seniority and employee benefit policies.
Please mention podjobs.net in your application.