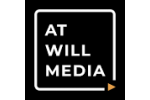 Associate Producer - Originals (Nonfiction and Fiction)
A full time Associate Producer position
Fully remote: working with a USA-based team at AT WILL MEDIA.

Salary: $75,000 (yearly rate)
What We Are Looking For
The Associate Producer will play a key role in the production of AT WILL MEDIA's growing slate of original projects in nonfiction and fiction.
The Associate Producer consumes a wide swath of podcasts, is highly organized, technically proficient, and creatively curious. The candidate ideally has experience in or a strong enthusiasm for a wide range of content, including fiction, news, and comedy, and demonstrates interest in innovative audio formats.
This position will work on many different aspects of production, honing technical and editorial skills while developing an understanding of the scripted audio industry. The Associate Producer assists all members of the production team with conception, planning, research, production, and editing of audio programming.
Responsibilities & Duties
Help schedule and coordinate recording sessions remotely and in-person, listen for continuity and quality, and take effective notes for team; confident coordinating remote recording set-ups
Coordinating studios and tapings, creative calls, and other meetings with key outside partners and collaborators
Research and fact checking with a keen eye for story
Sourcing, pulling, and logging archival audio and synching raw taping materials
Assist with tracking paperwork related to production, such as scripts, timelines, talent agreements, call sheets, sides, etc. alongside Sr. Supervising Producer and Producer
Help assemble script drafts and basic elements for episode creation, assisting with logging, organizing and maintaining media assets
Edit audio and assemble episode drafts alongside supervising/senior producer and post-production teams
Assist in writing questions and host narration on tight deadlines; coordinate with show host on basic scripting and voiceover narration
Other relevant duties and responsibilities as assigned
Qualifications & Skills
1 - 3 years professional experience, including internships, preferably in media, news and/or entertainment production. Existing audio/podcast experience is a plus.
Familiarity with a Digital Audio Workstation such as Pro Tools, Adobe Audition, and/or Descript helpful but not required. This position will work in Pro Tools alongside a Senior Producer and Audio Engineer on the job.
Highly organized and detail-oriented with an exceptional approach to audio storytelling.
Maintains folder structures, organizing and keeping track of assets and spreadsheets on ambitious production timeline
Maintain highest level of professionalism and contribute to seamless communication between internal and external production partners including AWM staff, contractors and network executives throughout all stages of production
Collaborates well with teammates at all levels, including producers, writers, directors, voice actors, hosts, and celebrity talent, working with flexibility to achieve timely goals
Maintains balance across multiple projects with strong time management skills and an ability to meet deadlines
Excellent verbal and written communicator
Working knowledge of G-Suite, Slack, and Airtable
Candidates who meet most but not all of the qualifications above are still encouraged to apply.
Reports To: Sr. Supervising Producer
Works With: Sr. Supervising Producer, Supervising Producer, Lead/Senior Producer(s), Producers, Editor(s), and other staff.
Job type: Full-Time
Salary Range: Starting at $75,000
AT WILL MEDIA offers a comprehensive total rewards (salary and benefits) package:
Competitive salaries
Comprehensive medical, dental, vision and life insurance plans
401k retirement plan
Flexible spending accounts
Unlimited PTO, and company paid holidays
Remote and work-from-home arrangements
Other flexible benefits
Location: In response to COVID-19, this position is currently remote. Candidates based in NYC or LA preferred, but we are open to a remote situation for the right candidate.
AT WILL MEDIA is committed to providing equal employment opportunities to qualified individuals regardless of their race, color, religion or belief, age, sex, gender identity or expression, national origin, ancestry, sexual orientation, physical or mental disability, veteran status, or family or parental status and to conform to all applicable laws and regulations to that regard. The AT WILL MEDIA equal employment opportunity policy includes all aspects of the employment relationship, including application and initial employment, promotion and transfer, administration, and the application of service, retirement, seniority and employee benefit policies.
Please mention podjobs.net in your application.
More details
What does a Associate Producer role normally entail?

The Podcast Taxonomy definition for a role like this in Creative Direction says: "The Associate Producer performs one or more producer functions as delegated to them by a Producer."
This exact role may have different requirements.