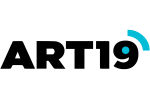 VP of Advertising Partnerships (Atlanta)
A full time position
Fully remote: working with a USA-based team at ART19, INC..
Posted: Oct 2, 2020
ART19, a leading podcast company, is looking to hire experienced ad sellers who love podcasts. We are headquartered in Oakland, with a growing office in New York City, and several remote locations around the world.
ART19, in addition to offering best-in-class podcast hosting and dynamic ad insertion technology, now also provides monetization services for its publishers — including by selling podcast ads. We offer voiced and host-read ads across a growing network of great podcasts, from networks like NBC, CBS, and Himalaya, and hosts like Jimmy Pardo, Al Franken, and many more. We also offer advertisers a targeted marketplace, so that we can combine the benefits of digital campaigns with the podcast medium. We use an in-house creative studio to record native podcast ads on behalf of our advertisers.
We are looking for a VP of Advertising Partnerships to help us connect advertisers with listeners.
Title: VP of Advertising Partnerships
Location: Atlanta
Reports to: COO
Type: W-2 Full-Time
Equity Plans
Competitive compensation package
Podcast ads have proven incredibly successful for both performance and brand advertisers over the past eight years. ART19's targeting technology adds smarts that advertisers crave to the medium, giving us an even more compelling story to share with buyers.
We need ad sellers with a love of the podcasting medium, healthy books of business, and enthusiasm for driving advertiser success. You'll be responsible for bringing in new business and building up a strong renewal flow as well.
Duties and responsibilities:
Land new-to-ART19 and new-to-podcasting advertisers in your market
Build up a healthy sales pipeline, managing the sales cycle from prospecting to close to renewal
Use our CRM tools to maintain your pipeline
Follow direction from sales leadership on account strategies
Work closely with ad operations team to ensure successful campaign execution
Provide best-in-the-business levels of client satisfaction
Manage to a budget provided by your supervisor
Requirements:
Incredible interpersonal skills
Inclination to use carefully-crafted emails, and not rely on mail merge/spray and pray
Willingness to pick up the phone or travel to a meeting to close the deal
Extreme self-motivation
Follow-through, customer service, and recognizing that a successful deal isn't just about the close — it's about the client's overall success
Years of podcast, audio, or digital ad sales experience
Bachelor's degree or higher
Benefits:
ART19 offers a competitive benefits package, including equity and unlimited time off! Work inside a collaborative team environment with a great culture. This team works hard but also knows how to have fun and reward their employees.
About ART19:
ART19's leading audio platform provides cutting-edge tools for on-demand hosting, distribution, ad serving, and audience measurement. At the intersection of publishers and advertisers, the company powers hundreds of millions of podcast downloads every month for the industry's largest shows. ART19 enables publishers to manage all content and ad operations in one place, offering best-in-class targeting capabilities, seamless integration with listening platforms and a flexible infrastructure to continuously enhance revenue opportunities for its clients. ART19 equips advertisers with services to reach audiences through smart targeting and custom ad creative capabilities
We are an equal opportunity employer and value diversity at our company. We do not discriminate on the basis of race, religion, color, national origin, gender, sexual orientation, age, marital status, veteran status, or disability status.
Please mention podjobs.net in your application.