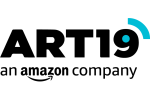 Manager, Publisher & SSP Operations
A full time position at ART19, an Amazon Company, San Francisco CA, USA
ART19 (an Amazon Company) is a leading audio platform, providing cutting-edge tools for on-demand hosting, distribution, ad serving, and audience measurement. At the intersection of publishers and advertisers, the company powers hundreds of millions of podcast downloads every month for the industry's largest shows. ART19 enables publishers to manage all content and ad operations in one place, offering best-in-class targeting capabilities, seamless integration with listening platforms, and a flexible infrastructure to continuously enhance revenue opportunities for its clients. ART19 equips advertisers with services to reach audiences through smart targeting and custom ad creative capabilities. In addition to offering best-in-class podcast hosting and dynamic ad insertion technology, ART19 provides monetization services for its publishers through a growing Target Ad Sales (TAS) Network across a pool of more than 1,000 podcast shows.
This role will be key in growing ART19's efforts to be the best home for podcast publishers, combining publisher success and operations. The ideal candidate is interested in supporting creators in the their mission by optimizing their monetization potential as participants in TAS. In this role, you will define processes that scale to support both creators and internal ad sales efforts.
What You'll Do:
Manage the publisher operations for ART19's Target Ad Sales (TAS) Network
Handle TAS publisher on- and off-boarding
Project managing new TAS customers transitioning from other hosting companies
Identify opportunities to scale and automate the on-boarding process
Build publisher relationships, acting as day-to-day point of contact for TAS participants
Work with ART19 Data team to understand potential audience segment opportunities
Interface with Ad Sales team to communicate available pools of audience inventory
Create and manage custom audience segment groups
Manage day to day operations of TAS SSP integrations.
Help define and document new and existing processes
Please mention podjobs.net in your application.