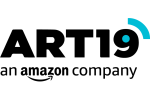 Business Intelligence Engineer
A full time position at ART19, an Amazon Company, San Francisco CA, USA
ART19 (an Amazon Company) is a leading audio platform, providing cutting-edge tools for on-demand hosting, distribution, ad serving, and audience measurement. At the intersection of publishers and advertisers, the company powers hundreds of millions of podcast downloads every month for the industry's largest shows. ART19 enables publishers to manage all content and ad operations in one place, offering best-in-class targeting capabilities, seamless integration with listening platforms, and a flexible infrastructure to continuously enhance revenue opportunities for its clients. ART19 equips advertisers with services to reach audiences through smart targeting and custom ad creative capabilities. In addition to offering best-in-class podcast hosting and dynamic ad insertion technology, ART19 provides monetization services for its publishers. We sell host-read ads across a curated network of podcasts, including shows from Tig Notaro, Michael Ian Black, Al Franken, and others, and offer a growing targeted ad marketplace across a pool of more than 1,000 podcast shows.
About the Team:
We believe in delivering the highest quality tools to empower and delight our customers. We act swiftly - recognizing our customers' changing needs - and regularly introduce groundbreaking features. Each member of the team is an owner and we give them the agency and voice necessary to thrive. We take a curious approach as we explore, collaborate, and create the world's best podcasting tools.
What You'll Do:
Deeply study and understand how listeners engage with podcasts
Communicate key trends and insights to materially improve our platform's impact
Build data visualizations and establish processes to bring scalable insights closer to action
Use data analysis, statistical techniques, and strategic business intelligence to understand our customers
Develop, create, and manage data pipelines & procedures to scale analysis and visualization products
Drive innovation by developing new measurement frameworks to assess content performance
Help document new and existing processes and methodologies
What You Bring:
A business mindset - you understand the realities of how businesses are run, and want to use data to help build better levers
Great communication skills - you can use data to present not just the numbers, but the stories behind what's happening
Leadership - you will be working hand-in-hand with executives across ART19 and the wider podcasting industry
Passion for podcasts & culture - we sit on one of the most interesting data sets in the world. Use it to discover how people engage with podcasts
BASIC QUALIFICATIONS
Bachelor's Degree or equivalent experience
3+ years of relevant experience analyzing complex datasets
Expert-level proficiency with data analysis using SQL and Python
Expert-level proficiency in designing visualizations and dashboards (e.g., Tableau, Mode or similar BI software)
Experience with forecasting and consumer behavior modeling
Experience creating and scheduling datasets
Experience analyzing large volumes of data in data lakes and data warehouses
Experience working directly with stakeholders to translate between data and business needs
PREFERRED QUALIFICATIONS
Master's Degree in relevant data & business analysis field
Experience in Media, Technology, Consulting, or Financial industries
Experience with Big Data Technologies (EMR , Hadoop, Hive, Hbase, Pig, Spark, etc.)
Please mention podjobs.net in your application.