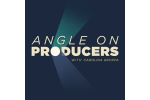 Associate Producer
A part time position
Fully remote: working with a USA-based team at Angle on Producers Podcast.

Salary: $500 (monthly rate)
NOW HIRING: Associate Producer, Angle on Producers with Carolina Groppa Podcast - REMOTE
About Angle on Producers With 80+ episodes released since 2019, Angle on Producers shines a light on what it takes to do a film and TV producer's work while leaning into the realities of the career path. These time capsule conversations help others, especially women, navigate their own paths in the industry. Past guests include formidable producers such as Eva Longoria, Lynette Howell-Taylor, Mollye Asher, Stephanie Allain, and many more.
The show is hosted by Emmy-nominated film producer Carolina Groppa (HONK FOR JESUS. SAVE YOUR SOUL, MISS VIRGINIA, AUTISM IN LOVE) who is currently an executive at Issa Rae's HOORAE Media and ColorCreative.
About the Job This podcast is a passion project for Carolina Groppa who has run the show mostly on her own over the years. This is a part-time and remote contract opportunity. We're looking for someone who wants experience in podcasting and/or the entertainment industry and is willing to work for $16.04/hr for roughly between 7-15 hours a week for six months for a total monthly stipend of $500-$1,000/month, in exchange for critical experience, professional development, and networking opportunities. Hours can be negotiated, but we are looking for someone who can begin in April 2023. While working on the show you have the benefit of learning about growing your network in the film industry, gaining invaluable podcast marketing and producing experience, and working closely with an established and talented Hollywood film producer. In addition, host Carolina Groppa will work with you to support your professional goals through development opportunities, such as coaching and mentorship, resume and interview feedback, and more.
The responsibilities of this role include, but are not limited to:
Coordinate and assist with guest research and scheduling
Perform audio editing and engineering tasks such as tuning, mixing, and leveling the audio
Perform video and audio editing tasks such as using audio editing software (that you're proficient in) to clean up the audio interviews as well as do clip downs for social media
Create research & prep documents for each interview to prepare the host
Plan and develop content for Angle on Producer's social media accounts; Tailor, adapt and edit content for social media
Assist in the promotion of the podcast on all social media channels and through company email list
Assist in identifying, targeting, and pitching potential podcast sponsorships to grow revenue
Keep podcast website up-to-date
Contribute to the development of the podcast content: pitch ideas, create a plan for content, etc.
Maintain organizational systems for podcast assets
We're looking for someone who is: An excellent project manager and task manager; Highly organized, ability to hone in on the details and also juggle multiple projects and tasks at once Strong drive and self-motivation, a self-starter who doesn't need close supervision Social media savvy with knowledge of how to grow audience and engagement Excellent communicator with strong writing and verbal skills Comfort researching and contacting potential guests
Preferred Skills Prior video and audio editing experience Knowledge of the podcast programming & marketing best practices
This job has expired
We're sorry, but this job post has now expired, and you cannot apply for it any longer.