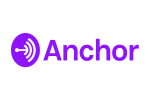 Strategy Operations Lead – Podcaster Mission
A full time position at Anchor, New York NY, USA
Posted: Nov 18, 2020
About the Podcaster mission
Spotify is a global community of over 250 million music fans and artists, and now podcasters. It's always been our mission to make audio more accessible, and create a new and wonderful way for creators and fans to connect with each other.
The Podcaster Mission is the team within Spotify responsible for building tools for podcast creators. We have two platforms that help us do that: Anchor (the biggest podcasting platform in the world, which allows you to create, distribute, monetize, and grow a podcast, all for free) and Spotify for Podcasters (the platform that makes it easy to understand and engage with your listeners on Spotify).
We've done a lot already, and we have no plans of slowing down. Come help us build the future of podcasting!
About this role
As the Operations Lead within Spotify's podcast tools business, you and your team will have the opportunity to collaborate with key team leaders on vision, strategy, and goals for our department. Our department spans multiple areas, covering product, engineering, design, marketing, creator relations, growth, insights, content operations, and support for Spotify's suite of podcaster-facing tools, including Anchor and Spotify for Podcasters.
Spotify will be different from any place you've worked before – more dynamic, more flexible yet more opinionated, and more ambiguous – and most importantly, more challenging. If this sounds exciting, we'd like to talk to you about joining us.
What you'll do
Work closely with the head of the Podcaster Mission to help lead, ideate and set strategy.
Build a deep understanding of how a large creator platform serves millions of podcasters globally through products, marketing, creator relations, content systems, and help to evolve the efficiency of these functions.
Evangelize data-driven thinking, inspiring leaders on the team to ensure the work we do is data informed and having measurable impact.
Influence overall company strategic operations and help execute other company wide initiatives, in collaboration with our central operations function on initiatives such as quarterly and yearly goal setting and execution.
Plan and facilitate regular team-wide meetings and less frequent events that build alignment, community, expertise, and innovation.
Improve our operational processes and cadences to accelerate delivery and capacity for innovation and growth while maintaining quality and stability, working closely with other team leads, as well as sub-team managers.
Partner with our HR partners in strategic workforce planning, organizational effectiveness and health.
Communicate both internally to the Podcaster team and outward toward our internal partners (other departments and business units at Spotify) – e.g., to collaborate, strategize, and further the success of our platform's creators and the engagement they drive on Spotify and other listening platforms.
Partner with marketing and our central communications partners to help shape how we extend our creator product brands and industry leadership in the audio creator market.
Help lead acquisition assessments in partnership with our M&A team (infrequent).
Lead, grow, and evolve a focused team of passionate and impactful operations team members.
Who you are
Ideally, you have domain experience working on a large, digital platform that serves millions of users.
You share our passion in empowering a global audience to create.
You have a proven track record of driving, ideating, and implementing strategy for a product-centric team.
You're comfortable packaging, presenting, and evangelizing high level strategic initiatives to large, cross functional teams.
You have a strong sense of vision for where the future is going and you're excited to build creative business solutions to align with market timing.
You have experience getting large groups of people excited about your ideas and committed to helping you implement them.
You have a strong background in change, project, and program management.
You have a demonstrated track-record of improving process and practices with systems level thinking.
You effectively communicate complex systems and processes, towards a diverse set of stakeholders, including top executives.
You have experience and enjoy leading, growing, and managing people, ideally across multiple geographies.
You're able to collaborate with cross functional teams who may or may not share the same near term goals with you or your team.
You are experienced at articulating user centric impact metrics/business metrics, and you understand the process and practice for creating qualitative and quantitative insights from data and research.
You have a deep understanding of lean or agile software development.
You have a solid base of business and financial acumen, with experience leading strategic planning, financial planning and analysis, and budgeting.
You have experienced and thrived in high growth or high change environments.
You are welcome at Spotify for who you are, no matter where you come from, what you look like, or what's playing in your headphones. Our platform is for everyone, and so is our workplace. The more voices we have represented and amplified in our business, the more we will all thrive, contribute, and be forward-thinking! So bring us your personal experience, your perspectives, and your background. It's in our differences that we will find the power to keep revolutionizing the way the world listens.
Spotify transformed music listening forever when we launched in 2008. Our mission is to unlock the potential of human creativity by giving a million creative artists the opportunity to live off their art and billions of fans the chance to enjoy and be passionate about these creators. Everything we do is driven by our love for music and podcasting. Today, we are the world's most popular audio streaming subscription service with a community of more than 320 million users.
Please mention podjobs.net in your application.