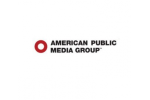 THE ANTIDOTE SENIOR PRODUCER (REMOTE)
A position
Fully remote: working with a USA-based team at American Public Media.

Let's just say it how it is: the world is a dumpster fire and the aftermath of 2020 - and the continuing dramas of 2022 - have us all running around with smoke in our hair. None of us want more bad news, so APM Studios is bringing joy - especially Black joy - through one of our new podcasts, The Antidote.
We're looking for a senior producer to lead this weekly show at a time when we all need something to laugh and smile about. You'll appreciate popular culture, keep up with the news, enjoy working with a creative team, and get excited about exploring ways to engage the audience and build community.
This is a six-month contract position.
Here's a taste of what you'll be doing:
Lead ideation and concept brainstorming for episode segments
Maintain show calendar, oversee editorial planning and communicate with wider APM Studios on upcoming guests and show segments
Manage workload and set expectations of Producer or Associate Producer
Liaise with social, marketing and sponsorship teams on potential opportunities for partnerships and amplification of show content
Write and oversee scripts and show prep to maintain the editorial integrity of the show
Talent management: Be the higher level liaison for the hosts should issues arise
Develop show sound and identity: Creative thinking around sound design, guest ideas, and use of audience engagement
Assist in the hiring and onboarding of a Producer or Associate Producer and other team members as needed
Provide guidance and notes on episode lay-up show with interviews, music, archive and any sound design
Review mix for any issues
Gather and implement feedback notes before final pass
Confirm successful upload of episodes and troubleshoot any problems
Monitor social media and audience feedback channels. Flag anything that needs attention, and think about how listener ideas can be added to the show.
To apply
Interested? Apply by filling out this form or copy and paste the link below in your browser.
Please list "Senior Producer - The Antidote" when prompted to list the position you're applying for.
https://forms.gle/NnnnvF7Bd5xDXJQb8
We look forward to hearing from you.
Please mention podjobs.net in your application.