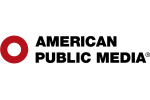 Marketing Specialist, On Demand
A full time Marketing Manager position
Fully remote: working with a USA-based team at American Public Media.

Salary range: $52,000 to $93,000 (yearly rate) - subject to experience
As the Marketing Specialist, you will be responsible for planning and executing marketing initiatives that grow the audience of APM's rapidly growing podcast portfolio, which includes nationally recognized podcasts such as Brains On!, Terrible, Thanks for Asking, The Splendid Table, and Don't Ask Tig as well as several new shows currently in development. You have a solid marketing/ advertising background in the digital space, as well as an entrepreneurial, curious spirit. You proactively problem-solve and optimize marketing campaigns while aligning your goals with larger departmental and divisional priorities.
You will work collaboratively with the Content Production, Audience Insights, and Communication teams to develop marketing strategies based on audience insights. You will personally oversee a range of marketing tactics from planning and creative development to execution and analysis, including digital and paid social, digital/live event activations, traditional media buys and marketing partnerships. You will also identify and test new, non-traditional ways of engaging potential APM podcast listeners.
Please mention podjobs.net in your application.
More details
What does a Marketing Manager role normally entail?

The Podcast Taxonomy definition for a role like this in Administration says: "The Marketing Manager is responsibile for the promotion of a podcast's content through various awareness strategies such as social media campaigns, cultivating a web presence, managing public relations and communications strategies, and other creative techniques to acquire and retain listeners."
This exact role may have different requirements.