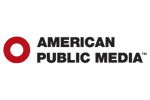 Marketing Manager, Podcasts
A full time position
Fully remote: working with a USA-based team at American Public Media.
Posted: Jul 31, 2020
As the Marketing Manager for Podcasts, you lead all podcasting marketing efforts for APM. In this role, you are responsible for audience identification, development and engagement strategies that align with our goals. You are the lead marketing resource, directing messaging and positioning and developing integrated marketing plans. In addition, your role oversees the marketing strategies and processes for all podcasts as well as budget management, resource allocation and the use of performance metrics and audience insights in order to evaluate and facilitate marketing decisions.
This role requires a strong and flexible collaborator and exceptional communicator who can act as an account manager, media planner, lead strategist and brand builder, and podcast segment expert – often all in the same day.
Location is open, but preference is given to St Paul (Minnesota), New York or LA.
Please mention podjobs.net in your application.