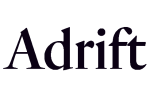 Associate Podcast Producer
A project or contract position
Fully remote: working with a UK-based team at Adrift Entertainment.
Posted: January 8, 2021
This role involves working on shows with technology companies on a suite of podcasts. You'd need to be comfortable with editing standard linear interviews/roundtables and narrative style shows (our senior producers offer guidance on the latter), experience writing interviews from outlines is a bonus.
Position is remote, however we'll provide any needed equipment. We've got quite a big pipeline of client shows right now, rates would be £250-£400 per episode depending on complexity. You'd likely be working on two episodes every week.
Alongside client work we're also working on a variety of original projects which you'll likely become a part of if you like working with us.
To apply
Email crew@adrift.media with a brief overview of your experience and ideally links to any work you would like to share.
Please mention podjobs.net in your application.