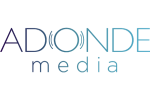 Senior Podcast Producer
A full time position
Fully remote: working with a USA-based team at Adonde Media.
Posted: March 19, 2021
Salary range: $80,000 to $100,000 (yearly rate) - subject to experience
Adonde Media is looking for an experienced audio storyteller for the role of Senior Producer. We're looking for a doer, a creative person who thinks, writes, and dreams in sound. A leader, who is excited to operate in a part of this industry where the rules have yet to be written, and at a new company where we are pushing ourselves to grow and make things beyond our comfort zones. This is a person who has already created a variety of projects and led teams of diverse kinds of people, and is now trying to expand their skillset by taking their talents to a multilingual, remote working team of go-getters.
In this role, you will be in charge of leading the production of several of Adonde Media's shows, both for clients and also original productions. As such, you will oversee all aspects of production and serve as the Executive Producer's right hand, leading multiple production teams in executing their vision for each show.
The ideal candidate has a strong background in audio production and narrative storytelling. They are able to communicate clearly and openly, and can both lead and be a part of a team of driven creatives with very diverse backgrounds, cultures, languages and time zones.
The Senior Producer role requires native or fluent proficiency in both English and Spanish, as you'll lead projects in both languages and communicate with peers and clients all over the US and Latin America on a daily basis. Proficiency in other languages, particularly French or Portuguese, is a huge plus.
What You'll Do:
Lead production of existing and new podcasts in development at various stages, including direct supervision of small teams.
Supervise the entire production process of each story, from meetings with clients through scriptwriting, recording, mixing and publishing.
Write, produce and edit as needed to ensure projects reach the highest standards of excellence and efficiency.
Offer creative problem-solving when producing stories and implementing feedback from Adonde's clients and our internal creative development team.
Support producers to advance their production and storytelling skills.
Manage the production timeline and development process for each podcast.
Lead editorial meetings.
Give final review of all scripts and mixes to ensure a consistent editorial voice and vision for the show and to ensure all feedback is incorporated into the final episodes.
Work with our production managers to ensure the team adheres to a production schedule and therefore ensure timely delivery of show materials and meet deadlines.
Collaborate with Adonde Media's creative team on future projects
Advise on staffing and budget requirements to pilot and sustain these shows.
Make staffing recommendations to build a diverse and talented team of producers and editors.
Meaningfully contribute to defining Adonde Media's strategy, long and short-term goal-setting and production needs.
What You'll Bring:
Minimum of 3+ years experience producing for a narrative audio storytelling project or program, with experience leading creative teams.
Demonstrated ability to lead large, long-term projects for remote teams.
Native and/or fluent proficiency in both English and Spanish. Proficiency in other languages, particularly French or Portuguese, is a plus.
Strong preference for candidates with significant experience developing and producing a range of show styles, in both English and Spanish, as well as management experience.
Experience vetting show/story pitches and guiding story production processes.
Demonstrable knowledge base and experience in writing/editing for audio.
Proven track record of successful scheduling, project management and production planning for long terms projects with large teams.
Experience developing stories that draw on diverse perspectives.
A creative approach to storytelling with sound.
Experience producing recording sessions (logistics, studios, tape syncs, etc.).
Proficiency in at least one digital audio editing software, preferably ProTools.
Strong collaborative and communication skills, as well as the ability to delegate and prioritize effectively.
This is a full-time position. Compensation will comprise a competitive salary and health benefits. Adonde Media is based in Los Angeles, California, however as this role will be working with a remote team across several countries, we welcome applicants from any location.
Please include links to samples of your previous work when submitting your resume.
About Adonde Media: Do you talk your friends' ears off about podcasts? Do you wish there were more productions that pushed the envelope? Do you value creativity, collaboration and innovation? Are you independently motivated, and do you thrive working remotely? If so, we might be a good match!
Adonde Media is a globally-minded podcast production company. Made up of a mighty team of multilingual international producers, editors, sound designers and engineers. We pride ourselves on creating content that transcends language, format and geography.
Our partners understand the power of connecting with audiences through sound-rich audio storytelling – and they're just as excited to explore the vast potential of this medium with us.
When we're not working on our kickass projects, you can find us nerding out at our monthly podcast listening club. You might also catch us giving workshops about storytelling, leading groundbreaking research about podcast listenership, and laughing just a bit too hard at our weekly happy hours.
Our approach to our work and working together is enshrined in Adonde's values, which include bringing positivity to all of our challenges, adhering to the highest standards of quality, and trusting one another on the team.
Adonde's productions have reached millions of listeners and have topped the Apple rankings. To date, our partners include Duolingo, TED, Vice News, Georgetown University Spotify, and NPR. In addition to working with clients, we also produce original shows, the first of which hit #1 in True Crime across Latin America – El Verdadero Robo del Siglo.
Adonde Media is an Equal Opportunity Employer and does not discriminate on the basis of race, gender, sexual orientation, gender identity or expression, religion, disability, national origin, protected veteran status, age, or any other status protected by applicable national, federal, state, or local law.
To apply
to apply, follow this link:
https://www.indeed.com/job/senior-podcast-producer-a133bd2c3004e056
Please mention podjobs.net in your application.