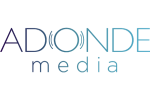 Podcast & Business Operations Assistant
A full time position
Fully remote: working with a USA-based team at Adonde Media.
Posted: March 19, 2021
Salary range: $40,000 to $60,000 (yearly rate) - subject to experience
Adonde Media is seeking an outstanding candidate who is an enthusiastic podcast fan, is collaborative, highly organized, detail-oriented, a problem-solver, and has the ability to balance multiple projects and prioritize them according to the team's needs and resources.
In this role, you will work closely with company leadership in executing critical day-to-day tasks and ad-hoc projects that relate to all aspects of business operations, including some executive assistant functions. You will be an active force in supporting Adonde Media's culture across our remote office team of driven creatives with a diverse set of backgrounds, cultures, languages and time zones.
You'll be reporting to the Head of Strategy and Operations, working closely with the CEO and colleagues from around the world.
If you love the podcast industry, like to work in cross-functional roles and touch every aspect of a business, thrive in a start-up environment and absolutely love getting things done and crossing items off your to-do list, this is the perfect opportunity for you.
What you'll do:
Support our business operations by performing critical day-to-day tasks, such as: issuing production contracts, processing ad-hoc payments to contractors and vendors, and processing time tracking reports.
Supporting our executive team by: scheduling and note taking during client meetings, overseeing general file management, assisting with presentation and meeting materials, and performing other administrative tasks as needed.
Support our production and marketing teams in updating our various show websites, managing messages from listeners, uploading audio, transcripts and show notes for publishing, gathering metrics and marketing reports.
Assist with the organization and execution of internal and external events at Adonde, such as staff training, workshops, conferences and retreats.
Managing content publishing & curation of adondemedia.com, including the site home page, show pages, and other editorial content and features.
Support our hiring efforts by managing job postings, candidate responses, and the onboarding and training of new staff and contractors.
Onboard new hires: work with hiring managers to ensure new hires have information and equipment they need, complete I-9 verification and other administrative & account set up.
What you'll bring:
1-3 years of experience in any of the following:
Agency, project management, or production experience, or relevant experience in a related field
Digital media operations (podcasts, digital ads, audio and/or video)
Business and finance operations
Admin/assistant supporting high-level executives in a start-up environment
Experience in podcasting or radio strongly preferred
Fluent in Spanish (ie an ability to speak and write professionally and articulately with ease.)
Keen attention to detail with expert organizational and follow-up skills.
Strong written and verbal communication skills.
High degree of professionalism, integrity, and confidentiality.
Demonstrated ability to communicate clearly and effectively, and across multiple teams and workstreams.
A confident self-starter who takes initiative, but knows when to ask for help.
Demonstrated ability to work under multiple, simultaneous strict deadlines, and effectively prioritize projects without details falling through the cracks.
Basic HTML knowledge.
Comfort with basic technology- G-suite, MS Office, Zoom,, etc.
Enthusiasm about emerging audio formats and the potential for innovative brand opportunities.
About Adonde Media:
Do you talk your friends' ears off about podcasts? Do you wish there were more productions that pushed the envelope? Do you value creativity, collaboration and innovation? Are you independently motivated, and do you thrive working remotely? If so, we might be a good match!
Adonde Media is a globally-minded podcast production company. Made up of a mighty team of multilingual international producers, editors, sound designers and engineers.
We pride ourselves on creating content that transcends language, format and geography.
Our partners understand the power of connecting with audiences through sound-rich audio storytelling – and they're just as excited to explore the vast potential of this medium with us.
When we're not working on our kickass projects, you can find us nerding out at our monthly podcast listening club. You might also catch us giving workshops about storytelling, leading groundbreaking research about podcast listenership, and laughing just a bit too hard at our weekly happy hours.
Our approach to our work and working together is enshrined in Adonde's values, which include bringing positivity to all of our challenges, adhering to the highest standards of quality, and trusting one another on the team.
Adonde's productions have reached millions of listeners and have topped the Apple rankings. To date, our partners include Duolingo, TED, Vice News, Georgetown University Spotify, and NPR. In addition to working with clients, we also produce original shows, the first of which hit #1 in True Crime across Latin America – El Verdadero Robo del Siglo.
Adonde Media is an Equal Opportunity Employer and does not discriminate on the basis of race, gender, sexual orientation, gender identity or expression, religion, disability, national origin, protected veteran status, age, or any other status protected by applicable national, federal, state, or local law.
To apply
to apply, follow this link:
https://www.indeed.com/job/podcast-business-operations-assistant-b1e444339dc32b72
Please mention podjobs.net in your application.